The Best Ways to Get Your Parent to Say Yes to Assisted Living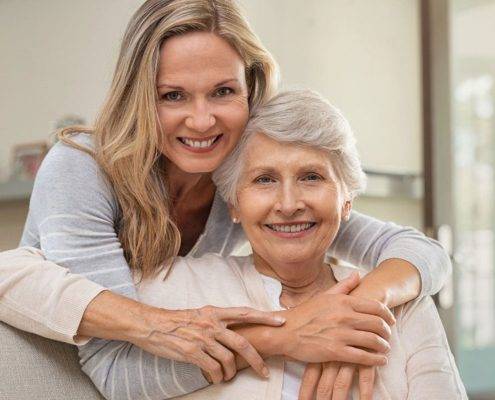 Is your parent struggling with living alone? Perhaps shopping and cooking are becoming more of a challenge or you worry whether they can continue to navigate the stairs? If so, you've likely researched the different options available.
If you believe assisted living is the best answer, you no doubt are familiar with all the benefits:
Private living residences
Assistance with basic daily activities
Independence encouraged
Healthy meals
Social opportunities
Monthly calendar of activities
Scheduled transportation
Safety and security
Most adult children also like the idea that their parents wouldn't be alone, would no longer have to maintain a home and would have the chance to make new friends.
Yet, many find themselves avoiding the conversation with their parents.
Why families often hesitate to talk about assisted living
If this describes your situation, please know that you are not alone.
Even though many adult children believe moving to a community could be the right solution for their parents, they're hesitant because:
1. They feel uncomfortable reversing the roles of parent and child
2. They're afraid that their parents will become angry with them
3. They're worried their parents will feel sad that they can no longer stay in their home
4. They fear their parents will say no and they won't know how to respond
For most families, if asked, their answer would be a combination of all of the above.
But here's something for you to consider. Addressing your concerns could help keep your parents safe and living a higher quality of life.
If you're looking for ways to get a parent to say yes to assisted living, try reframing the following:
1. Feeling uncomfortable reversing the roles of parent and child?
Respect the roles. They will always be your parents and you will always be their child. Trying to take over the parent role is often the beginning of a family's disagreement.
Your parents, like all of us, want to feel in control over their own lives. Unless they are in physical danger or are truly unable to make this decision, don't try to make it for them.
Your role should be supportive. Let them know your concerns, present the information and the benefits and help them decide. Offer to take them to tour different communities so they can see for themselves how it might work.
2. Afraid that your parents will become angry with you?
Your delivery can make a big difference in their reaction but it's possible they may express anger. Although uncomfortable, this is something you'll just need to accept.
However, it can help to understand that this emotion is really not directed at you. It's more likely toward a life that no longer lets them live as they once did. It can help to share your feelings of empathy with them.
Remember that they may also feel relieved, even if it's not immediately shown. Older parents often worry themselves about living alone but are unsure of what to do.
3. Worried that your parents will feel sad about leaving their home?
They'll likely feel sadness but this is understandable. Encourage them to share those feelings and let them know that you also have a sense of sadness about this change. But remind them that home is wherever they are and that the location is really all that's different.
They may also have been privately feeling overwhelmed trying to maintain the house and other life responsibilities. If you have noticed them struggling to keep up with housekeeping or paying bills, it's also very possible that they are aware of this as well.
4. Afraid that your parents will say no and you won't know the next step to take?
Prepare for an initial negative response. Begin by acknowledging the reality that some of life's changes can be sad. Also, let them know you understand that this is not an easy decision to make. Most families will need to have more than one conversation. Depending on your parent, you may want to start by only casually bringing up the subject.
It's also helpful to present them with the benefits that assisted living can offer. Tie the specific advantages as the answer to some of the concerns they may have. Have they struggled with maintaining their home? Point out what a relief it could be to live in a maintenance-free community.
Here are other ways to get your parent to say yes to assisted living
As noted above, when having the conversation it can be very effective to tailor the benefits you'll highlight to their specific situation. Here are a few of the more common advantages they'll find:
They will no longer need to feel afraid of living alone.
If they've been struggling with basic activities, assistance is there.
Older adults may feel like a burden if they need a ride. Transportation is provided.   
They'll maintain their independence and make their own choices.
They'll have easy access to healthy and delicious meals and will no longer need to cook.
Laundry and light housekeeping services are included.
They'll have a wide range of planned activities to choose from so they'll never get bored.
It's easier than ever to meet others in the community and begin forming new friendships.
Seaside Hallandale Beach Senior Living 
At Seaside Hallandale Beach Senior Living, we understand that talking to parents about assisted living can be a challenge. But it's a conversation that's often needed. And we're here to help in any way we can.
Once your loved one sees their beautiful new home and imagines all of the advantages waiting right outside of their door, they may begin to look forward to such an easy, yet enriched, lifestyle.
Take a look at a few of the services and amenities available in our pet friendly community:
A monthly social calendar of activities
Beautiful common spaces to socialize
Weekly housekeeping
A spacious courtyard
An outdoor pool with covered patio
Personalized fitness and wellness programs
Scheduled transportation
Easy and safe access to the beach
We hope you'll call to find out more about the benefits and security for the parents who make their home in our 100% renovated assisted living community.
If you have any questions about assisted living or Seaside Hallandale Beach Senior Living, please contact us at 954-607-1000 or download our brochure.
https://seasidehallandalebeach.com/wp-content/uploads/2021/03/iStock-1029343480.jpg
970
1200
seasidehb
https://seasidehallandale.kinsta.cloud/wp-content/uploads/2021/12/logo.png
seasidehb
2021-02-26 04:30:11
2022-05-11 14:44:20
The Best Ways to Get Your Parent to Say Yes to Assisted Living