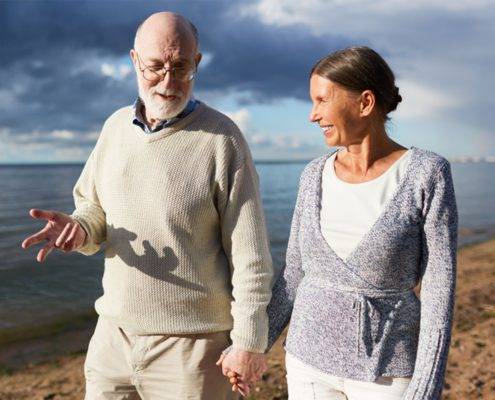 If you or your family is considering whether an assisted living community might be the right answer to support your goals of living and aging well, you'll likely find many options to think about.
Your choices may include searching for a community that offers the activities and amenities your parents would enjoy most, floorplan options that would fit their needs, a friendly and helpful staff, and healthy dining.
But there's another consideration that can make a big difference for your loved one's quality of life, safety and overall enjoyment:
A newly constructed assisted living community.
A newly constructed assisted living community: benefits for seniors
Most people love new things – clothes, houses and cars. And it's no different when it comes to newly constructed or renovated senior living communities.
Research backs up these positive responses. In a study conducted by design firm Perkins – Eastman, the focus was on the impact construction might make on wellness and personal preferences of existing and prospective senior living residents. They discovered there was evidence that the right design could improve the perceptions of wellness and encourage healthy behaviors.
Top design strategies included those that provided the residents with:
More autonomy

Promoting certain patterns of movement

Fostering feelings of home

Featuring an abundance of natural light

Providing access to outdoor spaces
Discover these benefits of newly constructed assisted living communities
Consider these advantages when choosing new construction over an existing building:
New construction is designed for today's resident
Today's older adults have changed and their preferences have as well. Gone are the days when residents are expected to adapt their lifestyle to a community. New construction allows the community to design specifically to the likes and partialities of the resident.
It's all about the options
People want choices and new construction makes that even easier to provide. You may find more selections in floorplans, outdoor spaces and common areas. Updated designs, modern features, colors and materials all work together to provide a fresh outlook.
Meets current and updated building codes
Safety is a priority for everyone but as building designs and construction materials change, codes are updated to reflect the latest in safety features. New construction is built, inspected and must pass the requirements of these newer codes.
Supports wellness goals
Updated fitness centers and programs, educational classes, opportunities for artistic expression, activities and social connections are recognized for the role they play in aging well. You may find newly constructed or renovated assisted living communities are better able to reflect and support their residents to achieve these goals.
Enriches the lives of the residents
A wonderful benefit of assisted living is the care and attention provided. Having assistance with the daily tasks can help residents continue to live an independent life longer. But new or renovated communities also recognize the importance of the individual home and common spaces where we interact with each other. Both allow the resident to live and express their desired lifestyle.
Newly constructed assisted living communities in Florida
Older adults who are lucky enough to call south Florida home don't need to own a shovel or a heavy winter coat. Instead, most days can be spent outdoors, enjoying the fresh air and warm breezes.  
However, as gorgeous as our state can be, we all know it comes with a higher risk of hurricanes and other weather occurrences.
Assisted living communities that are newly constructed or renovated not only will have upgraded technology and amenities but the added benefit of being designed for any challenges that the Florida weather may provide, including:
Stringent building codes

Hurricane-proof windows

Backup generators
Assisted Living at Seaside Hallandale Beach
If you are considering assisted living, we invite your family to see how our new senior living community encourages our residents to engage and live a higher quality of life.
We believe you'll enjoy the services and amenities available in our pet-friendly community:
     

A monthly social calendar of activities

     

Beautiful common spaces to socialize

     

Weekly housekeeping

 

    

A spacious courtyard

     

An outdoor pool with a covered patio

     

Personalized fitness and wellness programs

     

Scheduled transportation

     

Easy and safe access to the beach
Being a senior in south Florida has many benefits, like year-round sunshine and warm temperatures, but the area is also visited regularly by tropical storms and hurricanes. Not to worry! Senior living communities like Seaside at Hallandale Beach are designed with Florida weather in mind, with features like stringent building codes, hurricane-proof windows, and generators. On top of that, you can expect upgraded HVAC, fiber optic high-speed internet, a pool, an outdoor courtyard designed for fun, and ORB Kosher dining.
If you have any questions about Seaside Hallandale Beach Senior Living, please contact us at 954-607-1000 or download our brochure.

Click here to download the brochure: https://seaside.ac-page.com/dab-seaside-lp