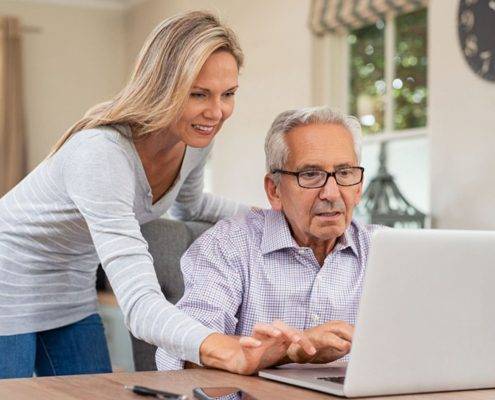 It's not uncommon to need assistance or a helping hand with the daily tasks of living as we grow older. You may be noticing that your parents are beginning to struggle with safely bathing, dressing or managing their medications or finances.
Many families are already helping their parents. But if you're discovering there are still gaps with the needed care, you may be considering whether an assisted living community could be the better answer.
The advantages of assisted living
Your parents will find a wide variety of benefits if they make an assisted living community their home. The following are just a few:
Private residences and independent lifestyles
Parents may be concerned that they'll no longer have their own residence or be making their own decisions. An assisted living community assures they'll have both.
Residents can bring their favorites from home to make their new space feel familiar. And they'll be in charge of how they want to spend their days, including what and when to eat, go to bed and wake up.
Assistance with daily tasks
Help is provided when needed, whether getting dressed, getting to the dining room or managing their medications.
Most residents are delighted when they realize how easy life can be. Having assistance readily available allows them to remain independent and not feel like they're a bother to their children or other family members.
Maintenance-free living
Ranking as one of the top benefits of assisted living, residents appreciate no longer having to be responsible for the maintenance and upkeep of their home.
They love leaving the chores to someone else and no longer having to pay for surprising and expensive repairs. They also can take advantage of the free time they now have to spend as they wish.
Delicious dining options
After years of planning, shopping, preparing and cleaning up after meals, it's no surprise that many residents are also happy to let someone else take over the kitchen.
They'll have many menu choices to select from and will also know that they can eat nutritious food without the headache of cooking – making mealtimes much more enjoyable.
Activities and social opportunities
It's essential to stay physically, mentally and socially active and an assisted living community makes that as easy as walking out their front door.
Residents enjoy on-site activities and amenities that appeal to their fun or artistic side. And the many social events make it easy to meet and make new friends.
Safety and security
Older adults often begin worrying about their safety or what might happen if they became ill or injured and were home alone. An assisted living community has taken care of that as well.
Communities are designed with aging and safety in mind. It's also reassuring for residents to know that there is someone there if help should ever be needed.
Tips for having successful conversations about assisted living
The following tips can help you have a more successful discussion and get off on the right direction:
The earlier the conversation, the better
Your best chance at success is to have these conversations early and often. Unfortunately, many families wait until there's a crisis.
Start having casual conversations and ask what type of help they would prefer if more assistance was needed. Talk about the different options, the pros and cons, and include the possibility of assisted living.
Come prepared
Gather as much information as you can, including the above benefits. Remember, your parents may not be familiar with all that assisted living offers and may be thinking of a nursing home or community life from long ago.
Be prepared to answer any questions they may have. If you don't have the answer, assure them you'll find out.
Make sure they know your role is supportive
It's essential your parents understand that a decision hasn't already been made and that you're there to assist them in finding the help they need.
Let them know your role is to gather information, answer their questions, do the leg work and support them in making the decision that is best for them.
Match their needs to an assisted living community's benefits
One effective technique is to connect the advantages a community offers with the needs that your parents are experiencing.
If eating healthy has become a challenge, discuss the menu selections a community provides and offer to take them to lunch. If loneliness is becoming a problem, talk about the activities and social events available.
Encourage open discussions
Help your parents know there is no rush to make a decision immediately unless there is one. Encourage them to be open with their opinions, concerns and fears.
Offer to help them learn more, answer their questions and schedule a tour so they can see for themselves all that assisted living has to offer. It's important that they know they are in charge of making the best decision for them.
Assisted Living at Seaside Hallandale Beach
We understand the challenges when discussing assisted living with your parents and hope these suggestions are helpful. We're here to answer any questions and we invite your family to see how a senior living community can encourage a higher quality of life.
We hope you will visit Seaside Hallandale Beach, where our community is designed to provide activities and social opportunities to help our residents live a fulfilling and engaged life.
We support our residents in aging well and believe your parents will enjoy the services and amenities available in our pet-friendly community:
A monthly social calendar of activities

Beautiful common spaces to socialize

Weekly housekeeping

A spacious courtyard

An outdoor pool with a covered patio

Personalized fitness and wellness programs

Scheduled transportation

Easy and safe access to the beach
If you have any questions about Seaside Hallandale Beach Senior Living, please contact us at 954-607-1000 or download our brochure.

Click here to download the brochure: https://seaside.ac-page.com/dab-seaside-lp