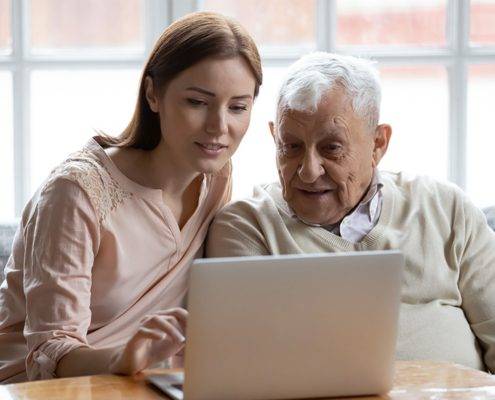 Is your parent or other family member beginning to struggle with some of the daily activities of living – such as dressing, grooming or bathing? Or are you concerned with their safety, especially if they live alone?
If so, an assisted living community might be the right answer if the question is how to help your parent continue to live an independent and high quality of life.
If your family is beginning to search for different communities, you may be wondering how to decide which one would be best.
Knowing what to look for and what questions to ask can make a big difference.
Choosing an assisted living community
Most families do not have a lot of experience in selecting an assisted living community. You want the best care for your parent of course, but you may be unsure what services are offered, what is needed and how best to support your loved one to feel at home.
To help you when choosing an assisted living community in your area, asking these 10 questions can illustrate which one might be the best fit for your family:
What is the staff-to-resident ratio, both during the day and at night?
Start with finding out more about the people who will be taking care of your loved one. Ask how many staff members are available in comparison to the number of residents. You'll also want to inquire what the ratio is over weekends and during the nights.  
What assistance and services are available?
Depending on what needs your loved one may have, you'll want to ensure that the services available will meet them. Ask the communities if they provide an assessment of what your loved one may require. You'll then have the starting point to compare to the services they offer.
What kind of experience and training does the staff have?
Ask what type of training employees have, including those who provide non-essential assistance. Is there a nurse on-site? You'll also want to know how often the staff receives continuing education and how they interact with the residents.
What are the residences like?
You'll want to ask what type of residences are available and whether your loved one can bring in personal items and furniture to make it more like home. Ask to see floorplans and do a walk through so your family can see one first-hand.
What activities are available to the residents?
One of the advantages of living in a community is the opportunity to participate in several activities that are of interest. Ask to see a copy of their monthly calendar to get an idea of what is offered. Most communities include a wide range of possibilities so there is something for everyone.
What type of dining program do they offer?
Eating well or healthy often becomes more of a challenge as we grow older. You'll want to make sure the food is delicious and nutritious and the menu choices include options that your loved one enjoys. Ask if they can accommodate special dietary needs.
What opportunities are available to meet new friends?
The loss of family members or friends can often lead to loneliness or isolation and both of these circumstances can be extremely detrimental to your parent's health. A community's activities, common areas, and social events are all great ways to make friends naturally.
What amenities are available?
Does your loved one like to swim? Watch movies? Exercise in the fitness center? Review what the community offers and make sure they match some of the preferences of your loved one. There should be ample opportunities to stay active and included.
What safety and security is provided?
What type of security does the community have? Is it gated or are security personnel on-site? Are there safety alarms? Also, ask if there are any added measures for the individual residents, such as a 24-hour emergency response system.
What are the fees and what services do they cover?
What is the base price for the community and what is included? Ask about their billing and payment policies? Are there on-site services such as additional personal care, a hair salon or massage therapy and what are their fees?
Questions to ask your loved one
When choosing an assisted living community, if at all possible, take your parents on these visits. As this will be their new home, make sure they're comfortable with the choice. They should be an active participant in making this decision.
Be sure to ask them:
How do they feel about each community?

Would they like to make their home there?

Was there anything they didn't like or were concerned about?

What feature would be most important to them?
Assisted Living at Seaside Hallandale Beach
We're here to support your family in making the decision of whether remaining at home or making a new life in an assisted living community would be the right choice. We understand that selecting a specific community is not always easy and we hope you find these 10 questions helpful while comparing different assisted living communities.
If you or your family is considering making assisted living home, we hope you will visit Seaside Hallandale Beach. We are here to offer a helping hand to provide the needed services and to enrich the quality of life and independence.
Here are a few of the services and amenities you'll find available in our pet friendly community:
A monthly social calendar of activities

Beautiful common spaces to socialize

Weekly housekeeping

A spacious courtyard

An outdoor pool with covered patio

Personalized fitness and wellness programs

Scheduled transportation

Easy and safe access to the beach
If you have any questions about assisted living or Seaside Hallandale Beach Senior Living, please contact us at 954-607-1000 or download our brochure.

Click here to download the brochure: https://seaside.ac-page.com/dab-seaside-lp