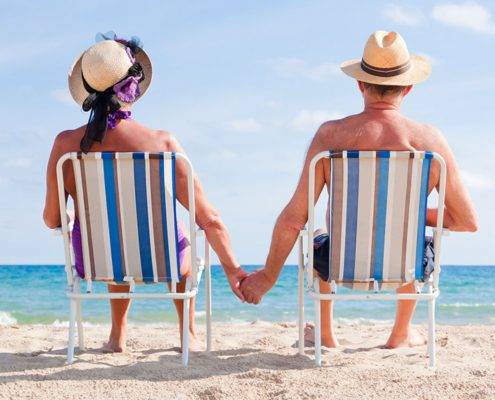 Assisted living could be the right answer if you're like most families and you're interested in doing everything you can to help your parents' age well. You've considered all the elements that might be needed, such as:
Staying physically fit

Maintaining your cognitive health

Eating well

Getting a good night's sleep

Taking the steps necessary to remain independent

Staying active

Building a strong social network
But have you given much thought to the home environment that would likely make all of this easier?
An assisted living community could be the right answer.
Most homes weren't built to age-in-place
Homes in the U.S. typically weren't designed with aging in mind. They were constructed more with a focus on land costs and housing families with children, which explains why homes typically go up instead of out and require lots of stairs.
Steps are usually needed to get into the home. You'll find almost all bedrooms are located upstairs, there may be a family room or laundry in the basement and in between, there are often narrow halls and doorways.
But as we grow older, this layout may not be the best for supporting people to stay in their homes.
Assisted living can help you age well
The reason that assisted living communities do promote aging-in-place is that they were designed with that purpose in mind. You'll find everything there has been planned to make life easier for older adults.
You may wish to consider some of their top benefits and how assisted living and aging go so well together.
5 ways assisted living can support your independent life
If you're looking ahead and are interested in helping your parents be in the best position to get the most out of life, the right assisted living community could be a wonderful solution.
They'll still have a private residence
People prefer having their own home and the privacy that it provides. Not only will your parents live in their own residence, but they'll be able to personalize it to make it truly their home. Bringing their bed or favorite chair can make a big difference in feeling comfortable.
They'll also find that they'll still have their independence and will be making the decisions about how they want to spend their day. If they want to sleep in, that's their choice. Whether they prefer an active day spent with friends or a quiet walk and a good book, it's for them to decide.
Assistance with activities of daily living
Assisted living is the perfect place if your parent needs a helping hand with some of the basic tasks of daily life. Could they use assistance with bathing, getting dressed, grooming, managing their medications, shopping or cooking meals? This is all taken care of when they make their home in a community.
Some older adults mistakenly fear that they may lose their independence if they move into assisted living but the reality is that it is just the opposite. By receiving help with some of these activities, most older adults are able to continue to live more independently, not less.
Nutritious and delicious dining programs
Eating well and regularly can make a big difference in both your parents' physical and cognitive health. A balanced diet can help them:
Maintain a healthy weight

Receive the nutrients their body and mind needs

Lower their risk of cardiovascular disease

Decrease risk of developing chronic illnesses
Although we need fewer calories when we grow older, if we continue to eat the same amount but don't increase our exercise, weight gain is common. On the other hand, some older people lose their appetite or sense of taste and smell and don't eat enough. An assisted living community provides the right foods to be healthy for your parents and appeal to their tastes.
Fitness center and healthy activities
The key to aging well is to keep moving. But that isn't always easy if your parents are living at home. There may not be as many opportunities to exercise or participate in activities that not only get the heart pumping but that are fun as well.
At an assisted living community, all they'll need to do is walk out their front door. They may find an on-site fitness center, exercise equipment or classes. And most communities have monthly calendars of planned activities that your parents can choose from.
Great opportunities to meet and make new friends
One of the biggest threats to health is loneliness and social isolation, which can be an increased risk if your parents are living alone. As we grow older, we may begin losing family members or friends as well as find it more difficult to meet new people.
Assisted living communities can almost guarantee that your parents will make new friends. There are so many opportunities at the many activities offered, planned social events and even in the common areas. Your parents will also soon discover that they have much in common with their neighbors and other residents.
Assisted Living at Seaside Hallandale Beach
We're here to support your family in making the decision of whether remaining at home or making a new life in an assisted living community would be the right choice. We understand that selecting a specific community is not always easy and we hope you find these 5 ways helpful for your parents to age well.
If you or your family is considering making assisted living home, we hope you will visit Seaside Hallandale Beach. We are here to offer a helping hand to provide the needed services and to enrich the quality of life and independence.
Here are a few of the services and amenities you'll find available in our pet-friendly community:
A monthly social calendar of activities

Beautiful common spaces to socialize

Weekly housekeeping

A spacious courtyard

An outdoor pool with covered patio

Personalized fitness and wellness programs

Scheduled transportation

Easy and safe access to the beach
If you have any questions about assisted living or Seaside Hallandale Beach Senior Living, please contact us at 954-607-1000 or download our brochure.

Click here to download the brochure: https://seaside.ac-page.com/dab-seaside-lp