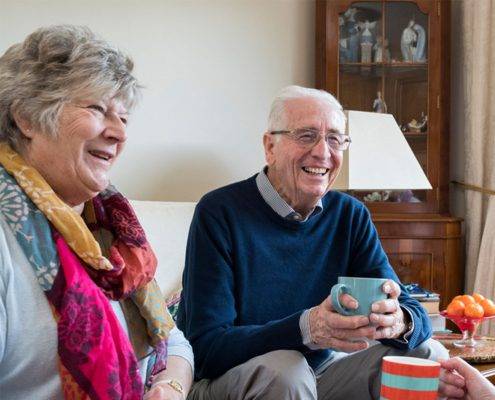 Are your parents beginning to struggle with bathing and dressing? Are you worried your loved ones aren't able to prepare healthy meals as they once did? Do you fear they're becoming more isolated and lonely?
As these situations can occur more frequently as we grow older, families often begin researching the best options to support their parents.
Comparing the benefits: assisted living vs home
If you're considering whether an assisted living community might be better suited to meet your parents' needs, the following comparisons between remaining at home vs community life may be helpful.
An age-friendly private residence
Most people prefer to live in their own private home. Although available whether your parents stay at home or move to assisted living, there can still be a big difference.
Considering assisted living vs home: Is their current home designed to support aging-in-place or would extensive and expensive renovations be needed?
Assisted living communities provide private residences designed to be age-friendly, including no stairs, wider hallways and safety features in the bathrooms.
An independent lifestyle
People also value their independence and don't want to give up living their life or making their own choices.
Considering assisted living vs home: Your parents may be making their own decisions while living at home or receiving a little help.
In assisted living, that wouldn't change. The choices are all theirs. The only difference is that life will become much easier.
Assistance with daily tasks
As your parents grow older, they may need assistance with basic tasks, including bathing, dressing and grooming.
Considering assisted living vs home: It may be difficult for your parents to cook, keep their house clean and manage their finances. They may be relying on you to pitch in.
In assisted living, they'll find housekeeping is included, delicious meals prepared daily and they'll no longer have to manage monthly household bills.
Opportunities to meet and make new friends
Loneliness and social isolation is detrimental to a person's physical and mental health. Unfortunately, age itself can make these occurrences more common.
Considering assisted living vs home: Socializing or participating in activities they once enjoyed can become more difficult when living at home. If your parents no longer drive and have few transportation options, they can easily become isolated.
Assisted living communities provide social events and opportunities on-site for residents to meet each other naturally.
Maintenance-free living
Homeownership comes with many rewards but also many chores and responsibilities.
Considering assisted living vs home: Another task that becomes more difficult for many older adults is to continue the upkeep of their home. It can be overwhelming to take care of repairs and maintenance or to rely on others to help.
In assisted living, one benefit the residents rank among the highest is the maintenance-free lifestyle that they all enjoy.
Activities and social events
Staying active is good for your parents' health. But the key is finding activities that are of interest and can easily be attended.
Considering assisted living vs home: Living at home can make it harder to plan, schedule or attend social events and activities.
Assisted living communities do the planning and scheduling for their residents. They offer a monthly calendar of choices. All the residents need to do is choose an activity and enjoy.
Healthy and delicious meals
Eating well is critical to stay healthy. But the challenges in planning, shopping and preparing good food increase as we grow older.
Considering assisted living vs home: If meals become too difficult, dinners may be skipped or snacks substituted. Family members may need to supplement meals.
Assisted living provides nutritious and delicious food and many selections. Your parents can enjoy their meals with friends and not have to worry about the clean-up.
Scheduled transportation
Growing older often leads to driving less or eventually not driving at all. Unfortunately, this can lead to isolation.
Considering assisted living vs home: Having alternative transportation can make a big difference if your parents are living at home. If not available, they may not be able to actively participate in their community.
Assisted living communities offer scheduled transportation to medical appointments, entertainment and social events. Your parents won't be left out and you won't need to always be the chauffeur.
Re-establish relationships with family
Oftentimes, the other spouse or the adult children become the caregivers and subsequently lose their family roles.
Considering assisted living vs home: If your parents live at home, they may be relying on a group of people to help them get through the days, including their children and neighbors.
In assisted living, help is provided in the community so family members can resume their roles of spouse, son or daughter.
Secure and safe lifestyle
Safety is always important but as your parents grow older, it can become more of a family concern.
Considering assisted living vs home: Do your parents feel safe in their home or neighborhood? Are they worried about their own personal safety, such as falling or becoming ill or injured?
In assisted living, the community is secure. Alarm systems may be available in private residences. Your parents can also be reassured that someone is there if help is ever needed.
Assisted Living at Seaside Hallandale Beach
We hope these suggestions can help your family better understand the benefits of an assisted living community when compared to your parents remaining in their home.  
If you or your family is considering senior living, we hope you will visit Seaside Hallandale Beach. Our community is designed to provide activities and social opportunities to help our residents live a fulfilling life.
We are here to support your parents to age well and believe they'll enjoy the services and amenities they'll find available in our pet-friendly community:
A monthly social calendar of activities

Beautiful common spaces to socialize

Weekly housekeeping

A spacious courtyard

An outdoor pool with a covered patio

Personalized fitness and wellness programs

Scheduled transportation

Easy and safe access to the beach
If you have any questions about Seaside Hallandale Beach Senior Living, please contact us at 954-607-1000 or download our brochure.

Click here to download the brochure: https://seaside.ac-page.com/dab-seaside-lp