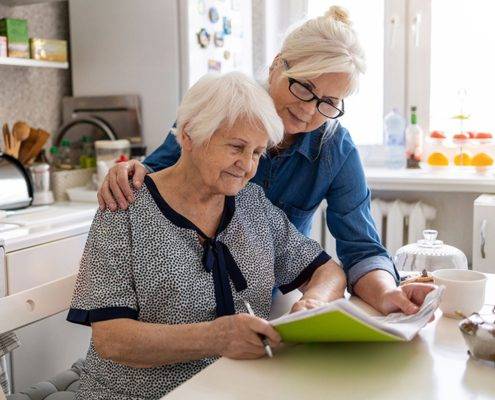 Is your loved one beginning to need a little help with a few of the tasks of daily life, such as bathing safely, getting dressed, or shopping for and preparing healthy meals?
Or are you caring for a parent who is living with Alzheimer's disease and is beginning to need a higher level of attention than you can continue to provide at home?
If the answer to either question is yes, your family may be discussing the services offered at an assisted living or memory care community. The advantages of both not only provide a high level of care but can also improve your loved one's quality of life.
However, families often wonder how to pay for these services. What might come as a surprise is the number of resources that may be available.
Funding options for assisted living and memory care
The following answers to commonly asked questions can help get you started in the right direction:
Does Medicare pay for assisted living or memory care?
Medicare does not pay for room, board or personal care assistance. However, hospice and medical expenses received at a community are covered, similar to those that occur in a doctor's office, hospital or at home.
Medicare may pay or contribute toward supportive services such as medical and non-medical transportation and assistance with activities of daily living, such as bathing, dressing, laundry and light housekeeping. Preventative care, doctor appointments, physical therapy and medical equipment is covered.
Does Medicaid pay for assisted living or memory care?
Medicaid, an income and asset restricted program, does not pay for room and board but can provide some financial assistance for personal care services. The amount of financial assistance received varies from state to state. As states realize it's less costly to offer assistance to those in assisted living than only in skilled nursing communities, financial help from Medicaid may increase. 
Are there Veterans' benefits to help pay for assisted living or memory care?
The Veterans Administration offers financial assistance to veterans and their surviving spouses with limited income through the Veterans Aid and Attendance Benefit. This can be used to help pay for long-term skilled nursing, assisted living or home health care. Your parents will need to meet certain conditions, such as needing assistance with daily functions or being bedridden.
What personal resources may be available to fund assisted living or memory care services?
Consider the following possibilities to pay for care from personal financial sources:
a. The individual's home
Either by selling, obtaining a reverse mortgage or a home equity line of credit, your parents may be able to tap their home as a funding source. A reverse mortgage frees up money from the accumulated equity but it will need to be repaid when the borrower dies, sells the home or permanently moves out. If married, a spouse will need to continue living in the home as one of the conditions is that the home remains owner-occupied.
b. Life insurance
There are several ways a policy holder can supplement assisted living or memory care expenses if they hold a life insurance policy. One option is to sell their right to collect the death benefit in exchange for an immediate lump sum of cash. 
Accelerated benefits allow terminally ill individuals to receive a portion of their death benefits in advance. Loans may also be taken against the cash value of the policy but must be repaid or a reduced benefit will result.
A life insurance conversion transfers the value of a policy directly to a care provider to help pay for assisted living, memory care and other care services. 
c. Long-Term Care Insurance
Families that have purchased long term care insurance can use these funds to help pay for assisted living or memory care. This insurance typically pays for those costs not covered by other health insurances, Medicare or Medicaid.
d. Personal savings and income
Consider all available sources that could contribute or supplement the cost of assisted living or memory care, including savings accounts, retirement funds, income from dividends, bonds, annuities and Social Security payments.
e. Bridge loans
Families who are waiting for resources to become available for assisted living or memory care may choose to apply for a bridge loan. These loans are designed to fill the short-term gap, such as when waiting for the parent's home to sell or for a benefit to be funded that has a lengthy approval process. When the house sells or the lump sum is paid retroactive to an application date, the loan is paid off.
Assisted Living and Memory Care at Seaside Hallandale Beach
If you or your family is considering senior living, we hope the above suggested resources can help you discover funding options for your loved one's care in an assisted living or memory care community. 
We also invite you to visit Seaside Hallandale Beach. Our community is designed to provide activities and social opportunities to help our residents live a fulfilling life.
We are here to support our residents to age well and believe they'll enjoy the services and amenities available in our pet-friendly community:
A monthly social calendar of activities

Beautiful common spaces to socialize

Weekly housekeeping

A spacious courtyard

An outdoor pool with a covered patio

Personalized fitness and wellness programs

Scheduled transportation

Easy and safe access to the beach
If you have any questions about Seaside Hallandale Beach Senior Living, please contact us at 954-607-1000 or download our brochure.

Click here to download the brochure: https://seaside.ac-page.com/dab-seaside-lp