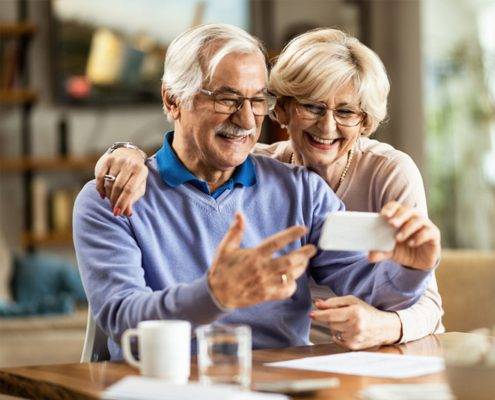 One of the best advantages we receive as we grow older results from remaining engaged with others and the world around us. However, being connected can also be one of life's bigger challenges.
Creating strong relationships and staying active is worth the effort. Research has discovered an increased risk of high blood pressure, heart disease, obesity, depression and cognitive decline for those who are lonely or socially isolated.  
The challenges of remaining engaged in life
Some seniors may find themselves alone day after day or only having the company of a spouse or partner. While growing older can be a fulfilling time in life, several features may make engaging with others more difficult, including:
Decreased physical ability: Reduced mobility can make it more of a challenge to interact with others. Living with a chronic condition or experiencing hearing difficulties may also contribute to staying at home.
No longer driving: For many, the inability to drive represents a loss of freedom and independence. They may be left to depend on family, friends or alternate transportation options which may be few.
Less socializing with family and friends: We may lose a close friend or family member or have friends who move away. Although we need companionship, the opportunities to meet new people can become more difficult.
More challenging to participate in activities or attend social events: Your parents may still have the interest but not the opportunity to join in with others. Planning events or attending activities may become unmanageable.
How assisted living can help your parent remain active and involved
It is crucial for older adults and their families to prioritize remaining engaged in life. If there are few current opportunities for your parents, your family may want to consider everything an assisted living community has to offer.
The benefits of community life remedy many of the challenges of growing older, including supporting the residents to connect with each other and the world around them.
Consider the following 5 ways your parent can remain engaged in assisted living:
Activities and amenities
Staying active and involved is essential to promoting good health and your parents will find that easy to do in assisted living. Communities typically provide a monthly calendar filled with events – and enough variety and choices so that everyone will find something of interest.
People want meaningful activities, not just tasks to keep them busy. Assisted living communities understand the importance of stimulating your brain and your body. Your parents will find games, physical activities, artistic opportunities, exercises or yoga and other relaxation classes.
Social events and entertainment options
Becoming socially isolated is one of the more serious side effects that can occur as we grow older. It's critical for families to stay alert to any signs that isolation is beginning to occur.
An assisted living community knows the importance of connecting with others and provides opportunities for their residents to spend quality – and fun – time together. Whether it's chatting at happy hour, enjoying entertainment or joining in on game night, residents will have many opportunities to get to know each other.
Opportunities to meet and make new friends
As we grow older, we may lose people in our life. Unfortunately, this can occur at the same time we need others the most. We might also have fewer opportunities to meet new people and make friends. The risk is that it often becomes easier to stay at home and become isolated.
Your parents won't need to worry about this if they move into an assisted living community. It couldn't be easier to connect with others, whether it's at an activity, partnering in a game, joining in a discussion of an author's latest works at book club or even crossing paths in the common areas.
Scheduled transportation
Another common occurrence of age is that we may become less comfortable driving or choose to drive less. But this can also curtail our abilities to see others or participate in activities.
Assisted living communities often provide transportation to medical appointments, activities, sporting events or other social outings. Your parents won't feel left out or miss attending the kind of activities they enjoy. They'll also be able to sit back, relax and leave the headache of driving, traffic and parking to someone else.
Assistance with mobility issues
Are your parents finding it more difficult to navigate their residence? Most houses today weren't built with thoughts of aging-in-place in mind. Instead, they may require maneuvering steps to get into the house and more stairs to climb to get to their bedroom or down to the laundry room.
If they need assistive equipment to walk, are their hallways too narrow to accommodate a wheelchair or walker? Is the kitchen accessible and does the bathroom have a walk-in shower or grab bars? Your parents' home will provide the basis for them to feel comfortable and will encourage them to invite friends over. They'll also know they can participate in community life without facing accessibility issues.
Assisted Living at Seaside Hallandale Beach
We understand the detrimental health consequences that loneliness and isolation can cause and the advantages that staying socially active and engaged in life can bring.  
If you or your family is considering senior living, we hope you will visit Seaside Hallandale Beach. Our community is designed to provide activities and social opportunities to help our residents live a fulfilling and engaged life.
We are here to support your parents to age well and enjoy the services and amenities they'll find available in our pet-friendly community:
A monthly social calendar of activities

Beautiful common spaces to socialize

Weekly housekeeping

A spacious courtyard

An outdoor pool with a covered patio

Personalized fitness and wellness programs

Scheduled transportation

Easy and safe access to the beach
If you have any questions about Seaside Hallandale Beach Senior Living, please contact us at 954-607-1000 or download our brochure.

Click here to download the brochure: https://seaside.ac-page.com/dab-seaside-lp