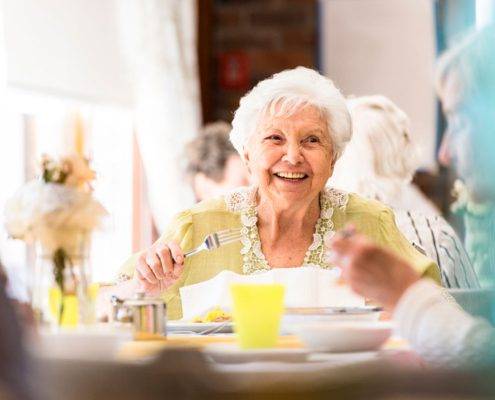 Life in an assisted living community can have many advantages, but one of the biggest benefits may be that you or a loved one may find yourselves happier and possibly healthier.
The reason?
There is more than just one.
Assisted living is a great place to make new friends and minimize the chance of loneliness and isolation, which can be detrimental to your health and happiness.
You may also find yourself staying in better physical shape, eating healthier and keeping your cognitive skills sharp.
And this is only the beginning.
Research confirms the advantages of assisted living communities
Studies have found similar results as the one conducted and outlined in the ProMatura report on the health and wellbeing benefits of retirement communities. A group of residents and non-residents completed a survey regarding their quality of life, health, physical exercise and social activities, among other topics.
A summary of the findings included:
Quality of life
A majority of retirement community residents agreed or strongly agreed that their quality of life was higher than a year ago. Only 19% of non-residents reported the same sentiment and more than a third of them either disagreed or strongly disagreed that their quality of life had improved. Retirement residents also felt that they had more control over their lives.
Staying healthier longer
Most residents said their health had remained about the same since they moved in and 10% stated their health had improved. But the survey pointed out that this was unusual as people's health usually declines as they age. Yet their average age was 82.9 and they had lived in a community for an average of 4.5 years. Maintaining their health without a decline is worth noting.
Less lonely and enjoying life more
The overall satisfaction was high for residents, as 89% reported being satisfied or very satisfied. Compared to non-residents, a significantly larger share stated that they often enjoyed life in the time frame considered, which was a week before the survey. Residents were also significantly less likely to have been lonely than non-residents.
Level of activity
The survey found that residents were between 2-5 times more likely than non-residents to participate in a range of activities that included social events, spending time with friends, dining with others, exercising and getting together with family more frequently than they had in the past.
Safety and security
A significant difference between residents and non-residents was found when reporting feelings of having a safety net in place if things went wrong. Of the residents, 93% agreed, while only 40% of the non-residents did. Residents were also twice as likely as non-residents to strongly agree that they felt safe and secure.
How the benefits of assisted living can add value to life
When you look at the above findings, it's easy to see the value that you or a loved one could receive by making an assisted living community home. But taking a look at only 5 of the benefits that you'll find in community life may also help you make the decision of which living environment would be right for you – staying at home or moving to an assisted living community.
5 benefits of assisted living
Finding the right assisted living community can make all the difference when it comes to a better quality of life, health and happiness. Here are some of the advantages you'll discover:
1. New friendships and social activities
It can be more difficult to meet and make new friends when you grow older. The opportunities can become fewer and it may be more challenging to get to events and activities. An assisted living community provides everything you need on-site. Participating in activities with other members of the community provides a natural way to make friends.
2. Privacy or people whenever you like
Assisted living may provide the best of both worlds. You'll be living in your own apartment and can have all the privacy you wish. You make your own choices so your days are all up to you. But when you're ready to have some fun, play a game, or just have a conversation, the people and opportunities are all waiting right outside your door.
3. Support to remain independent
One myth of moving to a community is that you'll begin losing your independence. But it's actually just the opposite. Having a helping hand to assist with some activities that have become more difficult is a great way to keep you living an independent life.
4. Healthy lifestyle
Eating nutritious but delicious meals is the foundation of a healthy lifestyle and you'll find it supported at assisted living communities with their many menu choices. And having an on-site fitness center, meditation classes and other amenities to help you exercise can keep both your mental and physical self in shape.
5. Maintenance-free living
This benefit is often at the top of a retiree's list when they're considering a move into an assisted living community. Imagine no longer having to spend time and money on home upkeep. Now all you'll have to decide is how to spend all the extra free time you'll have.
Seaside Hallandale Beach Senior Living 
At Seaside Hallandale Beach Senior Living, we offer and support all the benefits of assisted living.
We understand the true value added because we see it in our residents every day. Not only are they living a good life but they're embracing all that they can be.
We are here to offer a helping hand to assist you in enriching your quality of life and encouraging your independence.
Here are a few of the services and amenities available in our pet-friendly community:
A monthly social calendar of activities
Beautiful common spaces to socialize
Weekly housekeeping
A spacious courtyard
An outdoor pool with a covered patio
Personalized fitness and wellness programs
Scheduled transportation
Easy and safe access to the beach
We hope you'll call to find out more about the benefits and value that life in our assisted living community offers.
If you have any questions about assisted living or Seaside Hallandale Beach Senior Living, please contact us at 954-607-1000 or download our brochure.

Click here to download the brochure: https://seaside.ac-page.com/dab-seaside-lp