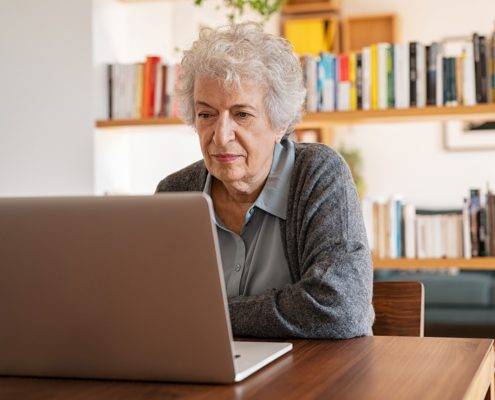 If you're like many people today, the internet has expanded your world. No longer does geography limit your ability to reach out to others or access social and news sources.
But the digitized world can also be overwhelming. Because there is an almost unlimited amount of information at your fingertips, the challenge becomes deciphering what's legitimate.
The credibility of senior health news
Have you ever found yourself reading an article on a latest discovery or cure – but then wondering if it was true?
Or perhaps you were considering whether a supplement would really work but didn't know if the company was a reliable source?
If you're not sure how to differentiate between trusted sources and the rest of the universe when you Google, there are a few tips to help keep you on the right track.
How to improve the odds of finding reliable senior health news
According to the National Institute on Aging, there are thousands of medical websites. But not all are reliable or offer current information. Recognizing the challenge of how to know if a site is credible, they offer the following tips:
As a rule, health websites sponsored by Federal Government agencies are good sources of information. You can reach all Federal websites by visiting

www.usa.gov

.

Large professional organizations and well-known medical schools are another good source of health information.

For other websites you might come across, the Institute recommends asking these questions before trusting their information:
Question #1: Who sponsors or hosts the website?
The address, known as the URL, can provide clues if you're not sure.
.gov sites identify U.S government agencies

.edu is used for educational institutions such as schools or universities

.org often identifies nonprofit organizations

.com is typically used for commercial websites
Question #2: Who wrote and reviewed information on the site?
Authors and contributors are not always identified, but when listed, ask yourself if they are experts in their field, work for the organization and whether they have a financial stake in the website.
Also ask if the health information is reviewed by a healthcare professional. There should be contact information located in the About Us or Contact Us pages so you can reach the site's sponsor or author.
Question #3: When was the information written?
Make sure the website is current with any health information so look for dates when published or when any updates were made.
Question #4: What is the purpose of the site?
Knowing why the site was created can offer you clues when judging its contents. Ask whether the purpose of the site is to inform or explain – or to sell a product. Look for whether the information is based on scientific evidence or on just one person's opinion.
Question #5: Is your privacy protected?
Review the website's privacy policy as well as whether they are using cookies, which can mean that your information may not be private. Read how the website will use your information and you should always have the option to disable the use of cookies through your internet browser settings.
Question #6: How can you protect your health information?
If you're being asked to share personal information, understand how they will use it. Secure websites that collect personal information will have an "s" after "http" in their website address, such as "https." They also may require you to create a username and password.
Question #7: Does the website offer quick solutions or miracle cures for health problems?
Question any promises of cures that seem too good to be true. Verify claims by searching other trustworthy websites to see if they offer the same information.
Online senior health news sources
We've done an internet roundup of a few sources that you might want to consider when it comes to researching on-line senior health news.
Of course, no information you access on-line should replace seeing your doctor or other health professional. But for general knowledge and research, these sites might be helpful in providing senior health news:
Assisted Living at Seaside Hallandale Beach
 We hope these tips for how to find credible senior health news have been helpful. 
 We're here to answer any questions you may have about senior living and we invite your family to see how our community can encourage a higher quality of life.
 We hope you will visit Seaside Hallandale Beach, which is designed to provide activities and social opportunities to help our residents live a fulfilling and engaged life.
 We support our residents in aging well and believe your parents will enjoy the services and amenities available in our pet-friendly community:
A monthly social calendar of activities

Beautiful common spaces to socialize

Weekly housekeeping

A spacious courtyard

An outdoor pool with a covered patio

Personalized fitness and wellness programs

Scheduled transportation

Easy and safe access to the beach
If you have any questions about Seaside Hallandale Beach Senior Living, please contact us at 954-607-1000 or download our brochure.


Click here to download the brochure: https://seaside.ac-page.com/dab-seaside-lp