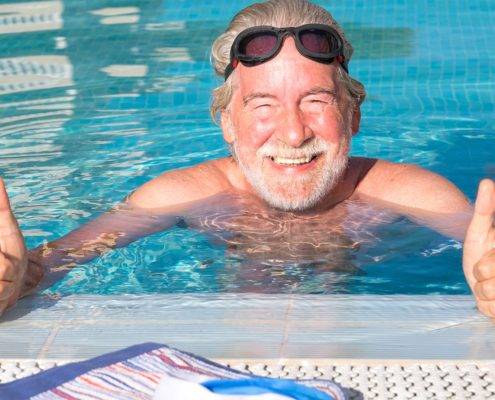 Times, as they say, have changed. While growing older might have once brought images of decline or illness, today's senior doesn't recognize – or accept – that predefined lifestyle.
This is not a period for slowing down but instead one of being engaged in life. The possibilities are there, and today's senior is ready to set and reach their wellness goals.
80 is the new 60 – and much more fun
Is it true that 80 is the new 60? That's up to you to decide. But when you take a look at the opportunities available today that weren't even a possibility 50 years ago, you may discover what many older adults are finding out – that growing older opens many more doors than it shuts.
Growing older – today vs. 50 years ago
Is it easier to grow older today? It may be. There have been several advances in medical care, nutrition and knowledge in how to best take care of ourselves. The following are a few areas that have helped advance healthy aging:
1. We have access to better health
There are vaccines today that nearly eliminate some diseases. We have access to healthy food and nutrition labels that let us know what we're eating. Medications and treatments decrease the risk of serious illness for many ailments.
2. Better medical technology
We have magnetic resonance imaging machines, or MRIs, to help doctors diagnose health issues. Remote patient monitoring and digital assistants are only a couple of examples that are advancing the quality of our healthcare.
3. Increased U.S. life expectancy
In 1950, the average life expectancy in the United States was 68 years. That has now increased to 78.6 years in 2017, according to information published by the Population Reference Bureau (PRB).
4. Increased access to knowledge and information
We're better educated about what is good for us and the consequences that can occur if we ignore this knowledge. Everyone is aware of the impact of smoking, pollution and air quality. And few would argue against the benefits of wearing a seatbelt.
5. Decrease in poverty rate for older adults
For Americans aged 65 and older, PRB found that the poverty rate has markedly dropped – from almost 30% in 1966 to 9% today, which can greatly influence overall health.
A comparison: is 80 the new 60?
Much has happened in the last 50 years and has had a great impact in how we view our world. For example, people once reached 65 and retired, even if they would have liked to keep working. It was seen as the end.
But today, there's a different picture painted for those 65+. The Bureau of Labor Statistics notes that 10.6 million people aged 65 and older were still in the workforce in 2020. That number is projected to grow to 16 million by 2030.
A few other changes in the last five decades? Many seniors today have more time and disposable income and reject any past ideas of slowing down. Instead, they're traveling more, picking up old passions or discovering new ones and searching for ways to live a personalized, active and engaged lifestyle.
Older adults are often more committed to physical fitness than their peers were 50 years ago. Today's seniors know the value of exercise and movement. Instead of assuming physical decline is an inevitable consequence of aging, they're being proactive in becoming stronger and more flexible.
While earlier seniors may have accepted the path that waited ahead, today's 65+ are redefining what that means. They refuse to conform to stereotypes and instead take an active role in their ability to age well. Because it's not living longer that they're looking for but living well and to the fullest.
How a senior living community can support your new lifestyle
One advantage of growing older when compared to five decades ago is the number of choices that are available. Take a look at all that a senior living community has to offer and how it can support your efforts to live your best life:
A private and accessible residence
Assistance and support for an independent lifestyle
Healthy and delicious dining
Fitness centers and classes
Opportunities to meet and make new friends
Activities and social events
Scheduled transportation
Security and safety features
Assisted Living at Seaside Hallandale Beach
We hope this look at aging and how things have changed has been helpful. We're here to answer any questions you may have about senior living and invite your family to see how our community can encourage a higher quality of life.
We invite you to visit Seaside Hallandale Beach, which is designed to provide activities and social opportunities to help our residents in reaching their wellness goals.
Supporting our residents to age well, we believe you or your parents will enjoy the services and amenities available in our pet-friendly community:
A monthly social calendar of activities
Beautiful common spaces to socialize
Weekly housekeeping
A spacious courtyard
An outdoor pool with a covered patio
Personalized fitness and wellness programs
Scheduled transportation
Easy and safe access to the beach
If you have any questions about Seaside Hallandale Beach Senior Living, please contact us at 954-607-1000 or download our brochure.