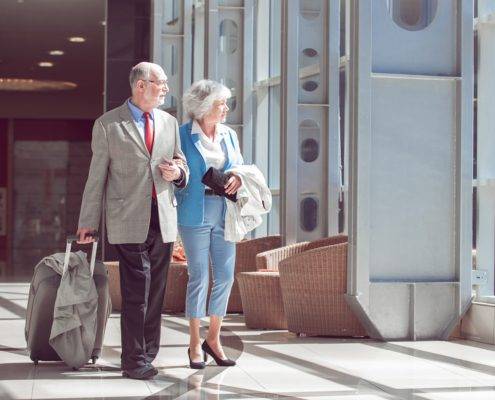 After remaining inside during the pandemic, it's no surprise that many people's thoughts are turning to travel. CNBC reported in February, 2022 that nearly 82% of people were in a "ready to travel" mindset.
With vaccinations, boosters and much lower COVID numbers, senior travel opportunities may be just around the corner. If you're ready for a change in scenery but are searching for destination ideas, the following suggestions can help.
Top 10 senior travel destinations
1. Visit a national park
Daily visits gained in popularity last year as spending time outdoors made social distancing easy. Whether it's Yellowstone in Montana and Wyoming or Maine's Acadia, check ahead for reservation policies. There are 423 national park sites so if yours is booked, consider one a little off the path.
2. Road trip on the Pacific Coast Highway
Consider the ultimate scenic trail – the Pacific Coast Highway. You can travel over 600 miles from San Diego to San Francisco and won't be disappointed in the mountain views and beaches, as well as the opportunity to side track into wine country and seaside villages.
3. Travel with a theme
Consider creating a theme for your post-pandemic travels. If you're an avid golfer, try playing as many courses as you can. A baseball fan? Visit several Major League parks. A trip back east could involve antique shopping, apple picking or touring the beautiful leaf colors in the fall.
4. Go to the shore
Reading a book on the beach, swimming in the ocean or taking long walks on the warm sand can be the perfect response to saying goodbye to winter and being confined indoors. Consider the beautiful beaches of Florida, Hawaii, Mexico or the Caribbean. The sights and sounds of ocean waves are therapeutic. An added bonus for residents of Seaside at Hallandale Beach Senior Living: the community is a short walk from the beach!
5. Camping in the great outdoors
Does sleeping outside under the stars sound appealing? Sitting around a campfire roasting marshmallows? Today's senior travel camping options can take you far off the beaten path or to luxury cabins where swimming pools, hot showers, activities and restaurants are all available.
6. Vacation locally
If traveling over the miles isn't appealing or possible, consider remaining closer to home. Research sites available in your state that you haven't seen and plan a few overnight trips. You may also decide to stay home and pamper yourself with a spa visit or tour local attractions that you enjoy.
7. See history up close
The U.S. has much to offer with tours or you can brush up ahead of time and visit on your own. For a few senior travel ideas, consider Philadelphia to see the Liberty Bell, walk the battlefield at Gettysburg, visit the Smithsonian Institute or stroll on Washington D.C.'s National Mall.
8. Take a river cruise on the Danube
It's hard to beat the convenience of a cruise – no continuous packing and unpacking, paying to sleep in hotels or eating meals in restaurants. For a different twist, consider booking a river cruise. The sailing is smoother, the ships are smaller and there are many sights to see along the way.
9. Experience a safari
If you're ready to take a bucket-list vacation, consider a once-in-a-lifetime African safari for your senior travel plans. These trips are growing in interest, offering an experience that you can't find at home. Imagine seeing up close what is referred to as the Big 5 – lions, leopards, rhinos, elephants and Cape buffaloes. Add in the graceful giraffes to make it 6.
10. Visit the grandchildren
For many grandparents, having the time to spend with the grandchildren is the highlight of any trip. Your grandchildren may not be close by or located in one geographic location but the sights they provide are priceless. Consider several shorter trips to visit each one or make one large loop, making sure to schedule enough time for fun.
Safety tips for senior travel
Before you finalize your travel plans, you may want to consider these safety tips:
1. Get insurance to make sure you're covered for an expensive trip in case your plans change unexpectedly.
2. Don't forget your medications but don't pack them in your checked luggage. Bring along a few extra doses in case your flight home is delayed.
3. Leave the expensive jewelry at home. It's safer to keep your jewelry at home than wearing or leaving behind in your hotel room.
4. Don't advertise that you're not in your room. When staying at a hotel, don't hang the "clean room now" sign on your door. If you'd like it cleaned while you're out, let the front desk know.
5. Take safety steps if you're traveling alone. Let your hotel concierge know where and when you'll be back. Carry your cell phone with you in case you need help.
Why senior travel can be the best
Senior travel provides you the freedom to choose – the time that works best for you, optimal weather and avoiding the crowds. Another advantage that senior travel allows is no longer being held to a limited timeline. It's much more enjoyable not to squeeze in sight-seeing of 10 cities in 10 days.
If your health permits, treat yourself to a trip. It's a great way to refresh and renew.
Assisted Living at Seaside Hallandale Beach
We hope these travel tips have been helpful. We're here to answer any questions you may have about senior living and invite your family to see how our community can encourage a higher quality of life.
We hope you will visit Seaside Hallandale Beach, which is designed to provide activities and social opportunities to help our residents live a fulfilling and engaged life. Supporting our residents to age well, we believe your parents will enjoy the services and amenities available in our pet-friendly community:
A monthly social calendar of activities
Beautiful common spaces to socialize
Weekly housekeeping
A spacious courtyard
An outdoor pool with a covered patio
Personalized fitness and wellness programs
Scheduled transportation
Easy and safe access to the beach
If you have any questions about Seaside Hallandale Beach Senior Living, please contact us at 954-607-1000 or download our brochure.