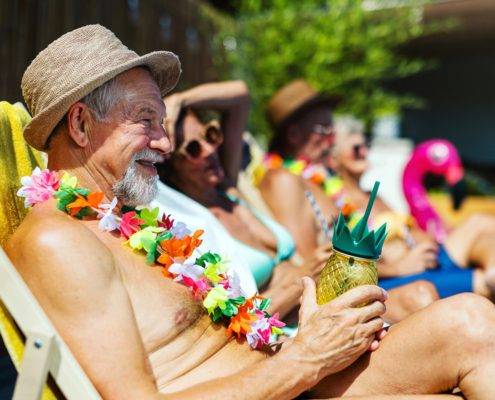 Do you count the days until summer rolls back around? Have you been dreaming of spending time on the beach once again? Does the sound of ocean waves calm your mind and bring back great memories?
Even though Floridians can enjoy the beach almost year-round, summer is still the best time to get out your beach wear and head to the sand.
Seniors who love the beach
If you loved the ocean as a child, chances are that fondness has remained. Look for opportunities to relive your favorite summer days and make plans for a beach visit. Although seniors may need to take a few precautions, getting outside and breathing the fresh air is good for both your body and your mind.
Sun safety tips for seniors
Of course, sun safety is important, even if you're not at the beach. Consider the following tips so you can enjoy your favorite place and always be ready to go back for more.
Sun safety tip #1: Stay in the shade
Limiting how long you are exposed to the sun is one of the best ways to protect yourself. Also, choose the best hours to avoid direct sunlight. The sun's rays are usually the strongest during the middle of the day, between 10:00 am and 4:00 pm. Even on cloudy days, up to 80% of the sun's UV rays can make it through.
If sitting under a tree or other shade source isn't possible, bring along a beach umbrella. This way you can still enjoy the sights and sounds of the ocean but will stay safer and cooler. Remember to pay attention to where your chair and umbrella is located in relation to the sun as it moves across the sky.
Sun safety tip #2: Use sunscreen
Before you go out, apply sunscreen that has a sun protection factor of SPF 30 or higher. This factor describes how well it can protect you from the sun's rays.
Purchase a couple of sunscreen applicators, such as sprays to cover larger areas and sticks which can help you protect your ears and nose.
Reapply it throughout the day and always after going in the water as sunscreen isn't a one-and-done application. Read the directions for your specific brand but reapplying every two hours is often typical.
Sun safety tip #3: Dress smart
Cover up with long sleeves or pants, so you're leaving less exposed skin to the sun's rays. Wearing a wide-brimmed hat outside will also provide additional protection.
Look for outdoor clothing that is designed to filter out UV rays. And consider shirts and pants that are made from cotton or linen. They provide protection but also are breathable fabrics, allowing the air to pass through and keep you cooler.
Sun safety tip #4: Don't forget your sunglasses
Prolonged exposure to the sun can be irritating to the eyes and increase your risk of developing cataracts or other problems.
Talk to your eye care professional for specific recommendations and when buying sunglasses, look for those that offer 99% – 100% ultraviolet (UV) protection.
Make sure they are labeled as sunglasses and are not merely tinted fashion eyewear accessories that might not provide UV protection.
Sun safety tip #5: Be aware of any medication side effects
Older adults often take multiple medications and may be aware of possible interactions between them. But you'll also want to make sure of any side effects.
Some medications can increase your skin's sun sensitivity so you may need to take extra protection measures and shorten the amount of time spent out in the sun.
Sun safety tip #6: Stay hydrated
Depending on where you live, you may find yourself also fighting the heat. You always need to stay hydrated, but take extra care if you are getting hot, perspiring, or being active in the sun.
Try to drink at least 8 -10 glasses of water daily and make sure to bring your water with you when you go to the beach.
Eating a hydrating diet, such as foods that have a high-water content, can also help prevent dehydration. Add berries, watermelon and cucumbers into your diet. They provide a great source of water, make a nice light meal in the summer – and are delicious.
The advantage of Seaside Hallandale Beach Senior Living for sun lovers
For sun and water lovers, there might not be a better place to call home than Seaside Hallandale Beach. Not only will you appreciate the many benefits and services of our assisted living community, but you'll also wake up every day to a view of either the pool, the intercoastal waterway, the ocean or the sun-filled enclosed courtyard.
Of course you will always want to take precautions when enjoying the sun and water but for many, there just isn't a better way to spend a day.
Whether you're reading your favorite book, joining in a beach sport, catching up with friends and family, playing with the grandchildren or walking along the shore – summer is finally almost here. Enjoy!
Assisted Living at Seaside Hallandale Beach
We hope these sun safety tips for seniors were helpful. We're here to answer any questions you may have about senior living and invite your family to see how our community can encourage a higher quality of life.
We invite you to visit Seaside Hallandale Beach, which is designed to provide activities and social opportunities to help our residents in reaching their wellness goals.
Supporting our residents to age well, we believe you or your parents will enjoy the services and amenities available in our pet-friendly community:
A monthly social calendar of activities
Beautiful common spaces to socialize
Weekly housekeeping
A spacious courtyard
An outdoor pool with a covered patio
Personalized fitness and wellness programs
Scheduled transportation
Easy and safe access to the beach
If you have any questions about Seaside Hallandale Beach Senior Living, please contact us at 954-607-1000 or download our brochure.