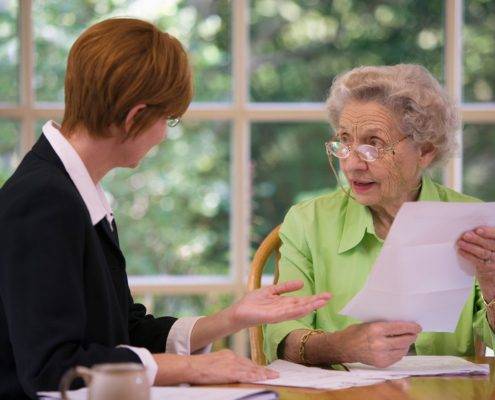 If you're retired or are looking ahead to the day when you will be, you may already have been saving or contributing to your investment funds.
Making sure that you're ready for the time when you will no longer be working takes planning and consideration. Your goal will be to have enough money to live the lifestyle that you enjoy.
It's a big task. But there is help available.
Hiring a financial planner can support you in setting and reaching your retirement goals.
What is a financial planner?
A financial planner has a broad knowledge base, including information about taxes, budgeting and investments. They can be the perfect partner for those who are planning their financial future and retirement.
It's important to know there are fee-based and commission-based financial planners. Fee-based advisors charge a flat rate and their income is primarily from the fees their clients pay. Commission-based advisors earn their income from selling financial products.
Source: Investopedia
Services provided by a financial planner
Financial planners who are also considered fiduciaries are legally bound to act in their client's best interests and aren't allowed to personally benefit from the management of client assets. But it's also important to know that retirement advisors can have different titles and credentials and offer a variety of services.
The following is a breakdown of some of the certifications you might find:
CFP: Certified financial planner
CFA: Chartered financial analyst
RICP: Retirement income certified professional
CRFA: Certified retirement financial advisor
CRC: Certified retirement counselor
RMA: Retirement management advisor
Source: smartasset.com
How a financial planner can help you meet your retirement goals
Retirement may have been far in the distance when you first started working and contributing to a plan, but as you grow older the importance of these earlier decisions becomes clearer.
Most older adults have dreams and desires for their retirement life but unfortunately, if you don't have a well thought out plan in place to make them occur, they may remain unrealized.
The role your financial planner can play is to help you set your retirement goals and create a plan to reach them, including:
Advising about different options to keep you on track or point out where you may be falling short

Provide strategies to eliminate debt in retirement

Advise you on how to manage your 401(k)s or IRAs so you receive the best tax advantages

Discuss future healthcare expenses and long-term care needs

Guide you in asset allocation that balances risk and reward and your comfort level

Discuss products that may preserve supplemental retirement income

Help you determine Social Security benefit strategies for your retirement plan

Review the tax implications of retirement account withdrawals and insurance payouts
Source: smartasset.com
Do you need a financial planner?
There are people who handle their own finances but many find it more of a challenge when it's time to switch from saving money to knowing how best to protect and spend it. Otherwise known as retirement.
A few more examples of why you might want to engage the services of a financial planner for retirement include:
Tax planning
This can greatly impact the amount of cash you'll have available in retirement. Having help to diversify your income streams and offset your taxes on gains and income may be invaluable.
Income planning
This can also greatly influence your retirement plans and provide reliable payments and the best ways to distribute your investments.
Estate planning
Your financial planner can review documents, refer you to an estate planning attorney and help you find the most beneficial options.
Health care planning
This type of planning can help you find the best options to cover long-term health needs, including assistance in qualifying for coverage you may have thought unavailable.
Investment planning
It's crucial this planning matches your overall financial and long-term goals. Your financial planner can help you identify your objectives and the strategies needed to realize them.
Source: Kiplinger
Tips for hiring a financial planner
Interview at least two or three financial planners before deciding on the one you will be most comfortable working with.
Asking the following questions may help in your decision:
What are their credentials?

Can they provide references?

What is their area of expertise?

What services do they offer?

What is the fee structure?

Are they a fiduciary?

What are their investment strategies?
If you're looking for help specifically to plan for your retirement, ask those you're considering if they specialize in this area.
Assisted Living at Seaside Hallandale Beach
We hope this information about the role a financial planner can play in your retirement has been helpful. 
We're here to answer any questions you may have about senior living and we invite your family to see how our community can encourage a higher quality of life.
We hope you will visit Seaside Hallandale Beach, which is designed to provide activities and social opportunities to help our residents live a fulfilling and engaged life.
We support our residents in aging well and believe your parents will enjoy the services and amenities available in our pet-friendly community:
A monthly social calendar of activities

Beautiful common spaces to socialize

Weekly housekeeping

A spacious courtyard

An outdoor pool with a covered patio

Personalized fitness and wellness programs

Scheduled transportation

Easy and safe access to the beach
If you have any questions about Seaside Hallandale Beach Senior Living, please contact us at 954-607-1000 or download our brochure.