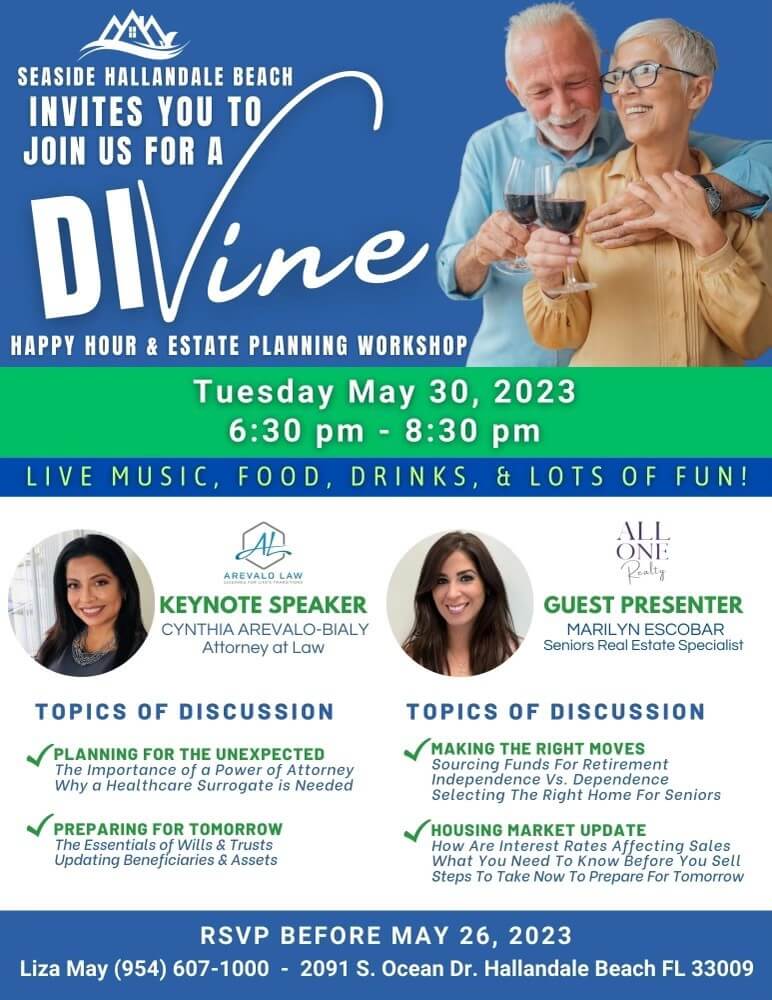 Seaside Hallandale Beach invites you to join us for "Happy Hour & Estate Planning Workshop".
Just 4 in 10 Americans ages 60 and up have documents in place to plan for their finances and health care if something were to happen to them.
Not having a concrete plan can make you susceptible to financial mishaps, particularly elder fraud.
When it comes to planning for your estate, chances are you haven't made all the provisions you should.
A recent survey found that 4 in 10 older Americans do not have in place the important documents that will take care of financial and health matters if they are incapacitated or dying.
Those gaps in financial planning could leave you vulnerable to unwanted events, including elder financial abuse.
While 1 in 5 Americans age 65 and up become victims of financial abuse, only 1 in 10 think it can happen to them, according to the research. Here are the steps you can take now to limit your financial vulnerability.
We break down your to-do list into bite-size pieces
These are the key documents everyone should have in place are a will/trust, a power of attorney for financial matters, an advance health care directive and a living will.
(1) Durable Powers of Attorney
The purpose: To allow someone else (called an AGENT) to step in and make decisions for you if you are unable to.
The authority of the agent ends at the death of the principal.
Without an effective power of attorney your family may be forced to file a guardianship and ask a court to appoint someone on your behalf.
(2) Healthcare Surrogate Designation
Allows you to appoint a someone to make decisions about your health in the event you cannot make them for yourself.
(3) Living Will
Allows you to decide what type of treatment you want at the end of your life (i.e. life support). Preferences regarding treatment and care, including end of life wishes.
(4) Pre-need Guardianship
This document provides you the opportunity to decide who will serve as your guardian in the event that a judge needs to appoint a guardian over you.
In all of these documents you want to be sure you choose someone who will act in your best interest and they are someone you truly trust.
Will / Trust
Next, we work on naming beneficiaries for all assets and titling trusts properly.
A WILL is used after a person dies to determine how the person's estate should be distributed.
A will requires a court process called Probate to re-title all property in the names of the beneficiaries.
LIVING TRUST (REVOCABLE TRUST) – provides direction about a person's assets. All properties named in the trust are titled in the name of the trust, so it avoids probate.
If we're pre-planning for Medicaid, then we would prefer that a client would do an irrevocable trust that is a Medicaid or Veterans Complaint Trusts which provides the greatest protection of their assets. If you become unable to make legal decisions for yourself, you want to ensure that your power of attorney allows your agent to create a trust or other mechanisms for Medicaid/VA planning. For this reason, your power of attorney should be a free downloadable form.
Breaking out the tasks you need to do one by one can help you stay motivated. It can be overwhelming and that can be a huge hurdle in getting it done.
Update your plans regularly
1 in 6 older Americans surveyed said their financial documents are out of date. Many individuals, even the elderly, put off these tasks because of a lack of urgency
Store your plans in an accessible place
Gone are the days when it's enough to have all of this information in a lockbox under your bed. You need to store a copy in a secure but accessible location online. Hard copies can be kept in a safety deposit box so long as someone else, other than you, has access to it.
With the recent pandemic and the Coronavirus, many of us have wondered what, if anything, we could have done in order to be better prepared. While we cannot control the next catastrophe or the next thing that might happen in our lives, we certainly can be better prepared to make sure that our loved ones are in a better position to take care of us, our finances, and our medical decisions if something were to happen to us.
We look forward to diving deeper into this topic at our in-person event "Happy Hour & Estate Planning Workshop" on Tuesday, May 30th from 6:30pm-8:30pm hosted by Seaside Hallandale Beach Senior Living.