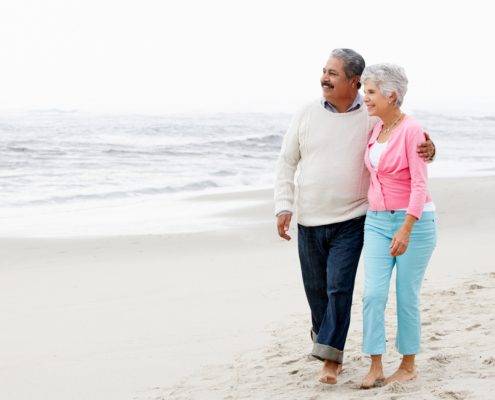 Older adults who choose to make an assisted living community their home enjoy the best of two worlds – a helping hand when needed and all the amenities to support remaining engaged in life.
If you're searching for the right senior living community in Florida, you'll also have the advantage of living in a climate where you can remain active outdoors year-round. You'll discover how easy it is to age and live well with the several Broward County Parks and Recreation opportunities nearby.
The health benefits of the outdoors
According to the Environmental Protection Agency, the average American spends almost 93% of their life indoors. Yet we know that staying active outside can help meet your wellness goals of keeping your body and brain stimulated.
The following are a few advantages you might discover:
1. Boost your memory and mental health
Studies have found seniors experience less depression and anxiety when they spend time outside. Outdoor exercise routines may help reduce the risk of mental health problems when compared to those who exercise regularly indoors.
Taking a walk outside and enjoying nature's beauty and fresh air can improve memories and the ability to think clearly.
2. Lift your spirits
Going outdoors can also lift your mood, make you happier, less stressed and more socially connected. It can even help you sleep better by supporting a more balanced circadian rhythm.
One reason we may feel happier is because we're less likely to be engaged with electronic devices while we interact with nature.
3. Improve your Vitamin D levels
Older adults may experience a drop in their Vitamin D levels, which can greatly influence muscle and bone strength.
Most people need supplements as few foods naturally contain enough Vitamin D. But time outside in the sun can help. Talk to your doctor about your recommended dose.
4. Increase your longevity
An American Cancer Society study found that seniors who walked just under two hours per week experienced a positive influence on their risks of obesity, type 2 diabetes, cardiovascular disease, mental illness and quality of sleep.
Spending this time outdoors can also boost your life expectancy. One study recommends two hours a week – either a few minutes each day or a weekly outing.
Broward County Parks and Recreation: options to enjoy
1. Anne Kolb Nature Center
Visit the 1,501-acre nature center, the largest in the Broward County parks and recreation system. Located in Hollywood, FL, you'll discover a coastal mangrove wetland which is filled with plant and animal life.
Amenities include:
Amphitheater
Biking, jogging and walking paths
Boat dock
Exhibit hall
Fishing
Nature trail
Observation tower
Picnic area
2. Kemp's Ridley Park
As one of five pocket parks of Hollywood North Beach Park, this area is named after the endangered Kemp's Ridley sea turtle. Along the Intracoastal Waterway, you'll find picnic spots and fishing in this dog-friendly park.
3. T.Y. (Topeekeegee Yugnee) Park
Named for the Seminole term meaning "meeting or gathering place", this Hollywood park in the Broward County parks and recreation system provides a place for walkers, picnickers and athletes. There is also a campground, two water playgrounds and a swim lagoon.
Amenities include:
Fishing
Biking, jogging and walking paths
Gazebo
Picnic area
Tennis
Volleyball
Water park
Fitness facility
Parks in Hallandale Beach
If you decide to make Seaside at Hallandale Beach your home, along with all of the many benefits and amenities you'll find are several outdoor opportunities as well as easy access to the beach.
1. B.F. James Park & Pool
This ADA-accessible park offers an outdoor fitness trail, pavilion, year-round swimming pool and restrooms.
2. Foster Park
Home to the African-American/Caribbean Micro-Library with a computer lab and historic wing, this 2-acre park also includes a pavilion, walking trail and open green space.
3. Golden Isles Park
You'll enjoy the covered outdoor fitness area and pavilion. If you're bringing along your furry friend, there are two off-leash dog areas – for larger and smaller dogs. At the adjacent Golden Isles Tennis Center, you'll find outdoor tennis, pickleball and bocce courts.
4. Joseph Scavo Park
You'll discover two dog parks, a gazebo, outdoor fitness trail, walking track, picnic areas and restrooms.
5. North City Beach Park
Featuring the beach, dining, parking, restrooms and the famous beach ball water tower, the park is also home to the beach wheelchair program.
6. OB Johnson Park
You'll find something for everyone at this park which features a fitness room, tennis, restrooms, computer lab and senior programs.
7. Peter Bluesten Park
Enjoy watching a baseball or softball game, or a stroll through the pavilion or along the walking paths The Hallandale Beach YMCA is also located here.
8. South City Beach Park
You'll find beach access, bocce courts, open air pavilion, picnic areas, tables and a café, as well as bathrooms and the beach wheelchair program.
9. Sunrise Park
This pocket park includes a playground, walking trail, benches, picnic area and open green space.
10. Sunset Park
You'll discover a pavilion, playground which is perfect for visiting grandchildren and a walking track so you'll get a little exercise while enjoying the fresh air.
Assisted Living at Seaside Hallandale Beach
We hope you find this list of Hallandale Beach and Broward County's parks and recreation options useful.
We're here to answer any questions you may have about senior living and invite your family to see how our community can encourage a higher quality of life.
We invite you to visit Seaside Hallandale Beach, which is designed to provide activities and social opportunities to help our residents in reaching their wellness goals.
Supporting our residents to age well, we believe you or your parents will enjoy the services and amenities available in our pet-friendly community:
A monthly social calendar of activities
Beautiful common spaces to socialize
Weekly housekeeping
A spacious courtyard
An outdoor pool with a covered patio
Personalized fitness and wellness programs
Scheduled transportation
Easy and safe access to the beach
If you have any questions about Seaside Hallandale Beach Senior Living, please contact us or call us at 954-607-1000 or download our brochure.