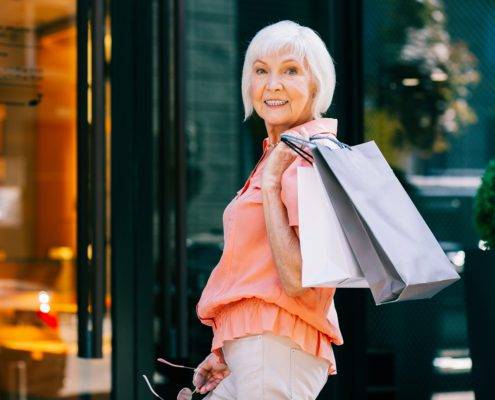 Are you one of the lucky ones who is considering senior living in Broward County? If the answer is yes, you likely are aware of the many benefits in the area.
The weather, the beach, the activities – and wonderful people – are only a few. But if you're considering a move here, are you aware of all the high-end shopping and dining possibilities just waiting for you to experience?
You may want to take a look and add these delightful perks to your list of things to try.
Senior living in Broward County
Broward County was made for high-quality senior living. If you were going to design an area that would specifically appeal to those active adults that are more than ready to begin enjoying all that life has to offer, the end result would likely look much like this county in South Florida.
The advantages of staying active for aging well
One of the best steps you can take toward reaching your wellness goals is to stay active. We all know the benefits of physical activity. But as we grow older, we also may need to be more diligent.
According to the Center for Disease Control and Prevention (CDC), the tendency toward inactivity increases with age. By the age of 75, one-in-three men and one-in-two women are no longer engaging in physical activity and are missing out on the benefits:
Contributes to the ability to live independently
Reduces the risk of falling and fracturing bones
Reduces risk of coronary heart disease, developing high blood pressure, diabetes and some cancers.
Reduces symptoms of anxiety and depression
Helps maintain healthy bones, muscles and joints
The benefits of remaining socially and emotionally engaged is just as important for seniors. Consider the following advantages spending time with others can bring to your life:
Provides a boost to your mental health
Improves your physical health
Increases your sense of belonging and being connected
Can help you sleep better
May increase your longevity
If you're looking for ideas to socialize and spend time with others, Broward County happens to provide great shopping and dining that you can experience with friends and family.
Senior living in Broward County: top-of-the-line shopping
Here are only a few options to fulfill your shopping needs:
Sawgrass Mills
When you're in Sunrise, you may want to visit the largest outlet destination in the U.S. Enjoy shopping at Gucci, Ralph Lauren, Prada and Armani among other upscale stores.
The Village at Gulfstream Park
Located in Hallandale Beach, you'll find open air shopping that includes Crate & Barrel, Pottery Barn and Williams-Sonoma.
The Shops at Pembroke Gardens
Located in Pembroke Pines, shops include Ann Taylor, Brighton and Cigar Bar.
The Galleria at Fort Lauderdale
Located in Fort Lauderdale, you'll find upscale stores such as Dillard's, Macy's, Sephora and the Aveda Salon & Spa.
Broward Mall
In Plantation, you'll enjoy shopping at Dillard's, Macy's and over 100 specialty stores. If you want to take a break, there's also a Regal movie theater on-site.
Promenade at Coconut Creek
Located in Coconut Creek, you'll have access to the 23-acre open-air upscale shopping.
Senior living in Broward County: first class and delicious dining
There is no shortage of great dining in Broward County but here are a few to get you started:
GG's Waterfront
When you're in Hollywood, enjoy the seafood, happy hours and Sunday brunch.
Diplomat Prime Steak & Seafood
Also located in Hollywood, you'll discover this upscale hotel chophouse serving steaks, seafood and wine in a beach side setting.
Capriccio
This award winning Italian restaurant in Pembroke Pines offers authentic Italian food and live entertainment.
Bistro Mezzaluna
Located in Fort Lauderdale, you'll have your choice of steaks, homemade pastas and fresh seasonal seafood.
Morton's The Steakhouse
Located in downtown Fort Lauderdale, you'll enjoy steak, seafood and an extensive wine collection.
Assisted Living at Seaside Hallandale Beach
We hope you will enjoy trying out this list of Broward County's shopping and restaurants.
We're here to answer any questions you may have about senior living and invite your family to see how our community can encourage a higher quality of life.
We invite you to visit Seaside Hallandale Beach, which is designed to provide activities and social opportunities to help our residents in reaching their wellness goals.
Supporting our residents to age well, we believe you or your parents will enjoy the services and amenities available in our pet-friendly community:
A monthly social calendar of activities
Beautiful common spaces to socialize
Weekly housekeeping
A spacious courtyard
An outdoor pool with a covered patio
Personalized fitness and wellness programs
Scheduled transportation
Easy and safe access to the beach
If you have any questions about Seaside Hallandale Beach Senior Living, please contact us at 954-607-1000 or download our brochure.