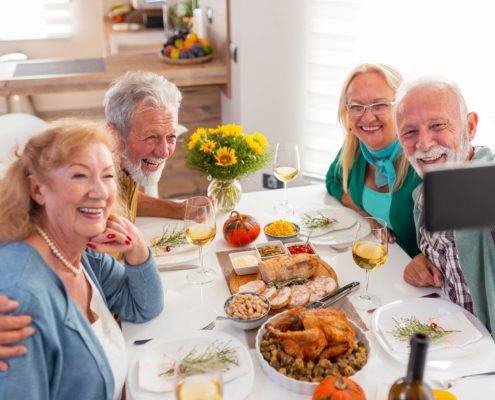 We know the importance of taking care of our health – and the features needed to help us reach our wellness goals. Many older adults strive to maintain their independence and live their best life by:
Regularly eating a healthy diet
Remaining active and engaged in life
Staying in shape – both physically and emotionally
But there is one feature that often is overlooked…
The health benefits of friendships
Social connections are not just nice to have. Beyond adding joy to life, they can greatly impact our physical, cognitive and emotional health.
Research has discovered the following advantages of having friends:
Increases sense of belonging and purpose
Provides a good role model
Boosts happiness
Reduces stress levels
Decreases risk of high blood pressure
Improves self-confidence
Provides support in trying times
Decreases risk of depression
Increases longevity
Source: Mayo Clinic
Tips for making friends and increasing your social connections
If you or your parent could use a few suggestions to become more socially interactive, the following tips may help:
1. Nurture your friendships
It's difficult to prioritize friendships when building a career or raising a family. You may have put your friends on hold until you could discover free time – which most of us rarely find.
To achieve the health benefits of friendships, make a commitment to value these relationships. Schedule the time to see your friends and keep the appointments.
2. Keep in touch with family
We may also lose touch with family members but it's never too late to pick up the phone and catch up. Vow not to take your family for granted, recognizing that time is short and passes very quickly
Take the lead and plan a reunion. If a divide has developed in your family, ask everyone to put the past behind them and give it another try.
3. Reach out to old friends
People are often surprised at the friends they have lost contact with over the years. This is usually due to a lack of time or being distracted with the focus on raising children or navigating a career.
Today's digital world makes it easy to enjoy the health benefits of friendships by connecting on-line. Was there someone you enjoyed spending time with but lost touch? Use social media to reconnect and arrange to chat.
4. Put yourself out there
If you want to make new friends, you'll need to go where the people are. Look for opportunities where people with similar interests to yourself often gather. This makes starting a conversation much easier.
Remember, few people are comfortable meeting others for the first time. It's something almost everyone struggles with but push yourself to take the first step. The effort is worth it.
5. Take a class
Another way to meet others so you can enjoy the health benefits of friendship is to take a class on a subject you always wanted to know more about. Or perhaps you're interested in learning a new musical instrument or to speak a different language?
Check out your local community college or senior center to look for opportunities that will not only expand your mind and knowledge but also help you to meet others who share similar interests.
6. Volunteer
You may have wanted to donate your time but it was the one thing that was always in short supply. Now that you're retired, look for opportunities to support a favorite cause or organization.
Not only will you be helping others, but this is also a great chance to meet people who share your similar passions and interests.
7. Join a group
There is a group for almost every activity or hobby. Think about whether there might be one gathering to enjoy your passion and you may soon be reaping the health benefits of friendships.
Are you an avid reader? Join a book club. Ready to re-explore your love of water colors? Check into an art class. If traveling is your preference, there are groups that see the world – or nearby sites.
8. Become active on social media
Relationships still count even if they occur over the internet. If you're finding yourself more isolated due to where you live or any conditions that may restrict your mobility, all you need is a computer and an internet connection.
Explore different social media sites and reach out to past friends or begin making new ones. You may also find groups to join or just enjoy sharing tips, suggestions or a good laugh with others.
How a senior living community can help you enjoy the health benefits of friendships
If you or your parent is becoming lonely or isolated, there is one solution that solves almost all of the challenges experienced when growing older – a senior living community.
Consider just a few of their benefits:
Private residence
Assistance when needed
Delicious and nutritious meals
Opportunities to stay in shape
Scheduled transportation
Safety and security
Maintenance-free lifestyle
But these communities are also the perfect place to naturally and easily meet people and make new friends. The many social opportunities and planned activities support the residents to share their stories, enjoy the camaraderie and begin forming meaningful friendships.
Assisted Living at Seaside Hallandale Beach
We hope this look at the health benefits of friendships has been helpful. We're here to answer any questions you may have about senior living and invite your family to see how our community can encourage a higher quality of life.
We invite you to visit Seaside Hallandale Beach, which is designed to provide activities and social opportunities to help our residents in reaching their wellness goals.
Supporting our residents to age well, we believe you or your parents will enjoy the services and amenities available in our pet-friendly community:
A monthly social calendar of activities
Beautiful common spaces to socialize
Weekly housekeeping
A spacious courtyard
An outdoor pool with a covered patio
Personalized fitness and wellness programs
Scheduled transportation
Easy and safe access to the beach
If you have any questions about Seaside Hallandale Beach Senior Living, please contact us at 954-607-1000 or download our brochure.