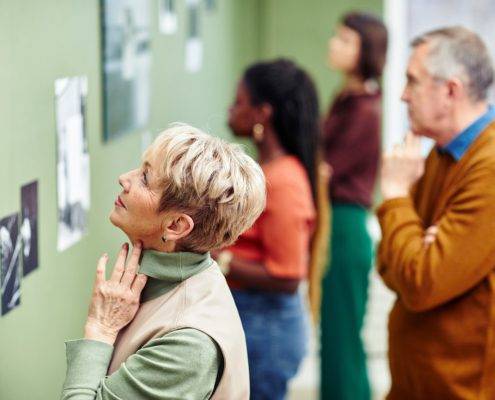 For those who call Broward County, Florida home, it's hard to imagine a better place to live. Located in south Florida, you'll discover the sun, warm climate, beautiful beaches, gorgeous parks, shopping, dining – and the ambience of welcoming communities.
It doesn't stop there. For those days when you're inclined to take a step back into history, appreciate the present or look forward to the future, you'll find Broward County also has you covered.
Broward County museums for seniors
Whether the county is your current home or future new address, you may want to add the many Broward County museums for seniors to your list of engaging and fun activities to try.
Here are only a few:
1. Bonnet House Museum and Gardens
Listed on the National Register of Historic Places, the 35 acre estate located on Fort Lauderdale Beach features the winter home of Chicago artist Frederic Bartlett, built in 1920.
Along with the home tour, visitors are also treated to five ecosystems on the property including the Atlantic Ocean beach and primary dune, a freshwater slough, the secondary dune, mangrove wetlands and a maritime forest.
2. Wiener Museum of Decorative Arts
If you're searching for something a little bit different when considering the Broward County museums for seniors, plan a visit to what is known as the most comprehensive British Ceramics Museum in the U.S.
Located in Dania Beach, it is also home to the glass art works of Dale Chihuly. Don't miss the unique exhibition of glass shoes by Miami artist, Rob Stern, known as Stern's Stilettos.
3. Historic Stranahan House Museum
As Broward County's oldest surviving structure, this historic home was built in 1901 by Frank Stranahan, the city's founding father, and his wife Ivy Cromartie Stranahan, the area's first schoolteacher.
Over the years this home has served as a trading post, post office and community gathering, all while providing a stunning view of the New River.
4. NSU Art Museum
Located in the heart of downtown Fort Lauderdale's arts district, you'll discover a distinctive modernist building designed by architect Edward Larrabee Barnes.
Another unique option in the Broward County museums for seniors, you'll be treated to more than 6,000 works, including post-war, avant-garde European Cobra artists, a collection by American painter William Glackens and leading Latin American artists.
5. History Fort Lauderdale
This campus includes three museums telling the story of how a wartime fort near the banks of the New River became a modern city.
You'll find the Historic New River Inn which houses the history museum, the King Cromartie House Museum and the Hoch Research Library which is filled with architectural blueprints, newspaper clippings and historical photographs.
6. International Swimming Hall of Fame
Ready for a different historical view? Check out the International Swimming Hall of Fame in Fort Lauderdale, created in the early 1960s.
Today's site includes a 27 meter high dive tower, the only tower of its kind in the western hemisphere. Tour the museum for a look at exhibits of swimming legends and to learn more about the history of swimming itself.
7. Naval Air Station Fort Lauderdale Museum
Another entry in the Broward County museums for seniors listed on the National Register of Historic Places, the air station was built in 1942 as part of the national defense program.
Serving as one of 257 stations during World War II, it was also a specialty training school for the TBM/TBF Avenger aircraft. From 1942 to 1946, the base trained American and British pilots and air crewmen from the U.S. and other countries.
8. Young at Art
Are your grandchildren visiting? This interactive art museum could be the perfect stop on a fun day and is enjoyable for all ages.
Share the experience and inspire creativity or help to understand the world we live in through art. Your entire family will enjoy the interactive exhibits or playful art making.
9. Old Davie School Historical Museum
Take a tour of the first permanent school in the Everglades. Built in 1918, it is the oldest school building in Broward County and makes the museum list for seniors.
Listed on the National Register of Historic Places, you can learn more about the heritage, culture and history of the Davie community and western Broward County.
10. The Craig and Barbara Weiner Holocaust Reflection and Resource Center
As an educational museum, you'll discover a large permanent collection of artifacts, original documents, images, historical newspapers and films from the period of the Holocaust.
There are also computer research facilities provided, including an interactive technology program that allows visitors to ask questions of a Holocaust survivor.
Assisted Living at Seaside Hallandale Beach
We hope this list of museums in Broward County provides some ideas when you're searching for a different type of activity.
We're here to answer any questions you may have about senior living and invite your family to see how our community can encourage a higher quality of life.
We invite you to visit Seaside Hallandale Beach, which is designed to provide activities and social opportunities to help our residents in reaching their wellness goals.
Supporting our residents to age well, we believe you or your parents will enjoy the services and amenities available in our pet-friendly community:
A monthly social calendar of activities
Beautiful common spaces to socialize
Weekly housekeeping
A spacious courtyard
An outdoor pool with a covered patio
Personalized fitness and wellness programs
Scheduled transportation
Easy and safe access to the beach
If you have any questions about Seaside Hallandale Beach Senior Living, please contact us at 954-607-1000 or download our brochure.