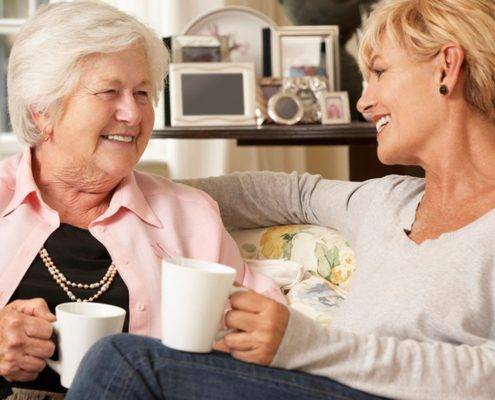 Are your parents beginning to need help with some of the basic daily tasks of life? Are they struggling to bathe safely, dress, manage their medication or shop and prepare nutritious meals? If so, your family may be discussing whether moving to an assisted living community could be the right answer to help your loved ones age well and enjoy a higher quality of life. One reaction that adult children may find challenging, however, is that their parents may hesitate to make that move. The good news is there are steps you can take to help.
Why parents may hesitate in moving to assisted living
When trying to respond effectively, it can help for the adult children to understand the reasons that may be behind the hesitancy. The following may provide insight and guide your family to have a successful conversation. 
1. Fear of losing independence
One of the primary fears that older adults often express is that they will lose their independence. They may believe they will no longer be able to direct their life or make their own daily decisions.
2. Not wanting to leave their home
It is not easy for most people to leave their home. There are a lifetime of memories that are usually attached and it's hard to accept that this house will no longer be home.
3. Not believing they need help
Many older adults just don't believe that they need assistance yet. Or at least not the level of help that would be available in an assisted living community.
4. Not wanting to admit they need help
Other parents may recognize their abilities have changed and that they do need help – but they may not be able to admit that.
5. Fear of the unknown
Change is not easy for most of us and moving from a home to a community may seem filled with many unknowns.
Moving to assisted living: Helping your parents see the benefits
The best approach you can take is to have many conversations – and often. Unfortunately, many families wait until there is a crisis to bring up the subject.
But if time allows, try not to rush the decision. If possible, give your parents the space to consider all the elements of your conversations and hopefully to see the many advantages. They may begin to accept that this change in residence will create a better life and even solve several problems.
It's key that they understand that you are empathetic to their situation and are there as support and to help. Consider the following suggestions if your parents are not yet on board with a move to an assisted living community:
1. Let them know this is their decision to make
When adult children begin these conversations by announcing that the decision has already been made, the parents immediately feel a loss of control. Remember, your parents may already be dealing with loss. Moving from their home will likely be conceived as yet another one.
Be sensitive that change is hard for all of us and acknowledge their feelings and emotions.
2. Be positive about what they'll gain
Instead of trying to talk them out of any negative views they may have, try to keep the conversations positive when discussing a move. Remember, you probably won't be able to change the situation by arguing. You'll likely get further if you are prepared to talk about the many positive benefits they'll find.
3. Discuss how an assisted living community can prolong their independence
One of the biggest fears that older adults often express is that they are losing their independence. Yet a huge advantage of assisted living, and possibly a surprise to many parents, is that moving to a community can actually prolong their independence.
It can also help to match up any challenges they're having with a benefit of community life. For example, if shopping and cooking have become more difficult, talk about the delicious meals and arrange to have one if possible.
4. Share the ways they won't need to leave their home behind
Many seniors are often reluctant and sad about leaving their existing home. This may have been where they raised their family and created years of memories.
Be prepared to talk to them about how your family can help preserve these memories and create new ones for their next home. Consider what furniture they can bring with them, such as a favorite chair, a cozy comforter or other mementos, photos and sentimental items.
5. Make sure they know what assisted living is like today
Older adults may not be aware of everything an assisted living community has to offer and may instead be thinking of senior living from a different time.
Make sure you talk about all the benefits they'll discover, including fun activities, amenities and the new friends they'll meet. Offer to set up a no-pressure tour so they can see firsthand what their new home could be like. Having a chance to meet other residents and the staff can also help them feel more welcome.
Assisted Living at Seaside Hallandale Beach
We understand the challenges when discussing assisted living with your parents and hope these suggestions are helpful. We're here to answer any questions and we invite your family to see how a senior living community can encourage a higher quality of life.
We hope you will visit Seaside Hallandale Beach, where our community is designed to provide activities and social opportunities to help our residents live a fulfilling and engaged life.
We support our residents in aging well and believe your parents will enjoy the services and amenities available in our pet-friendly community:
A monthly social calendar of activities

Beautiful common spaces to socialize

Weekly housekeeping

A spacious courtyard

An outdoor pool with a covered patio

Personalized fitness and wellness programs

Scheduled transportation

Easy and safe access to the beach
If you have any questions about Seaside Hallandale Beach Senior Living, please contact us at 954-607-1000 or download our brochure.

Click here to download the brochure: https://seaside.ac-page.com/dab-seaside-lp