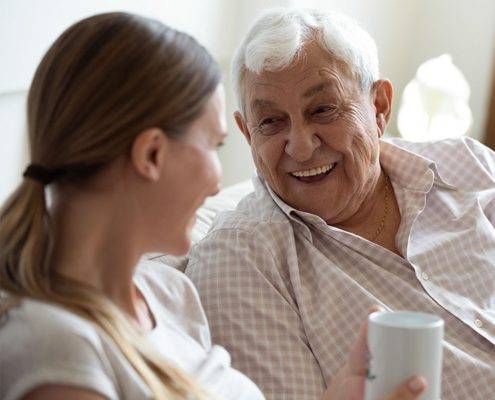 Caring for a loved one living with Alzheimer's disease or another form of dementia means their care needs will most likely continue to increase as the disease progresses.
Families often find themselves reaching a point when those needs exceed what they can provide or they may be concerned that their loved one is no longer safe living alone.
Assisted living and memory care communities are two options that can provide compassionate care to their residents living with dementia.
Deciding which would be best for your loved one is not always easy but understanding the distinctions of care between the two and the services offered might help:
Services assisted living communities provide
Assisted living communities are an option for individuals with early to middle stages of dementia or Alzheimer's disease who are still able to care for themselves in many ways.
Private residences and independent lifestyles
Assisted living communities offer private or companion residences. What activities to participate in, when to wake up, go to sleep and when and what to eat are all resident choices.
Assistance with the tasks of daily living
Help with bathing, dressing, grooming, managing medications, and light housekeeping are just a few of the services you'll find.
Activities and programs
Residents remain active and engaged as they participate in games, lectures, entertainment, discovering their artistic side or joining others on social outings.
Healthy dining options
Nutritious and delicious menu options presented in an appealing and appetizing way encourages eating healthy and provides the right fuel to function.
Opportunities to meet and make new friends
Assisted living makes it easy for residents to make new friends at the activities, social events, amenities or even when crossing paths in the common areas.   
Services memory care communities provide
Memory care communities are for individuals with middle to advanced stages of dementia or Alzheimer's disease who require specialized care and assistance.
Safe and secure environment
Wandering is dangerous for those living with Alzheimer's disease as they can become lost and unable to get help. Memory care communities provide a level of safety without restricting their movements.
Community designed to help with orientation
An intentional design of memory care is to use different techniques such as color-coding hallways or eliminating long hallways with doors on each side to minimize confusion and frustration.
Assistance with daily tasks
Residents receive help with daily tasks such as dressing, grooming and bathing, as well as managing their medication and accompanying and assisting them with meals or activities.
Specially trained staff
Staff learns specific skills to calm and lessen anxiety as well as recognize and respond to a resident's needs, especially if they are unable to convey this verbally.  
Activities and programs
Activities and programs help residents remain engaged and are tailored to provide memory enhancement, enjoyment, socialization and improve quality of life.
Assisted Living or Memory Care? Questions to help you decide
If your loved one is living with Alzheimer's disease or another form of dementia, assisted living communities can be the appropriate choice in the early stages. However, there may come a time when your parent will need the extensive attention of memory care.
Asking yourself these questions can help provide guidance. Team members at assisted living and memory care communities are also excellent resources to help your family determine which level of care would be most beneficial for your loved one.
What level of care does your loved one need?
If your parent is generally able to live independently with a little help, assisted living may be the right choice.
If more extensive assistance or attention is required to keep your loved one safe and comfortable, it might be time for a memory care community.
Does your loved one need specialized care?
If your parent would only require minimal memory support and assistance with daily tasks such as bathing or dressing, assisted living could be the perfect home.
If your loved one's care needs require specialized training in order to respond and interact at a higher level, memory care might be the best answer.
What type of activities can they participate in?
Assisted living communities offer a variety of activities that their residents enjoy independently, or with some support from staff.
A memory care community creates activities and programs especially for those who are living with memory impairment.
Does your loved one need assistance with meals?
Assisted living communities provide support at meals when needed, including accompanying a resident to the dining room.
Memory care communities are equipped to lower anxiety and frustration at mealtime as well as ensure your loved one is getting the nutrition needed even if they have trouble recognizing food or using utensils.  
Is safety an issue?
Assisted living communities are designed with overall safety in mind and often offer security or personal alarm systems.
Memory care communities are designed specifically to keep those living with dementia safe and to minimize anxiety while finding their way around.
Is communicating a challenge?
If your loved one is able to convey what's needed to a staff member, an assisted living community might offer the right level of care.
If your parent is unable to express verbally that they are hungry, in pain or feeling afraid, a memory care community's staff is specially trained to understand and respond to what may be needed.
Assisted Living and Memory Care communities at Seaside Hallandale Beach
Our compassionate staff, programs, activities and amenities are available to support the highest quality of life if your family member is living with Alzheimer's disease. We offer both assisted living and memory care to meet different levels of care.  
If you or your family is considering senior living, we hope you will visit Seaside Hallandale Beach. Our community is designed to provide activities and social opportunities to help our residents live a fulfilling life.
We are here to support you in aging well and believe you'll enjoy the services and amenities you'll find available in our pet-friendly community:
A monthly social calendar of activities

Beautiful common spaces to socialize

Weekly housekeeping

A spacious courtyard

An outdoor pool with a covered patio

Personalized fitness and wellness programs

Scheduled transportation

Easy and safe access to the beach
If you have any questions about Seaside Hallandale Beach Senior Living, please contact us at 954-607-1000 or download our brochure.

Click here to download the brochure: https://seaside.ac-page.com/dab-seaside-lp