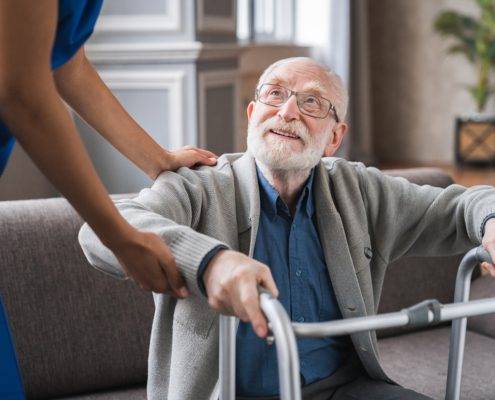 "What can you expect in assisted living?" Maybe a question you find yourself asking these days if you or a loved one is beginning to struggle with a few of the tasks of daily life and you may be considering whether assisted living could be the right answer.
The right community can be the difference between living a fulfilling and engaged quality of life – and one that remains a challenge. How? If you're not familiar with everything assisted living has to offer, you may be surprised at how closely the services and amenities will meet your needs.
What can you expect in assisted living? Here are 8 things to expect.
Between the care, attention and many benefits, it's easy to see why so many older adults choose an assisted living community to support them in living their best lives. Consider the following:
1. Private and accessible residence
You'll have the chance to choose your new home from different floorplans and layouts. Communities typically offer private residences that can be personalized to make your own. Residents also enjoy bringing in favorite possessions to add their signature touch.
Assisted living homes are designed to be accessible so you won't have to worry about making any expensive renovations in order to create a space that is age-friendly.
2. Assistance with daily tasks when needed
If you or a loved one could use a helping hand with daily life, assisted living is the perfect place to call home.
Staff are trained to professionally and compassionately offer personal services such as help with bathing safely, dressing or managing your medications.
If you've been relying more and more on family and friends, you may enjoy the independence often felt in an assisted living community.
3. Healthy dining programs
Older adults frequently find it more challenging to plan, shop and prepare healthy meals. Unfortunately, the solution for many becomes skipping meals or substituting snacks or processed foods.
Assisted living communities offer healthy dining that not only meets the nutritional needs of the residents but also appeals to their palates.
You'll have many menu choices to select from and you can also be assured that special dietary restrictions can be accommodated.
4. Opportunities to meet and make new friends
As we grow older, we may experience the loss of friends or family and discover that opportunities to meet new people have become fewer.
Unfortunately, loneliness and social isolation can result, which are extremely detrimental to both your physical and mental health.
An assisted living community offers many opportunities to meet the other residents and get to know how much everyone has in common. Friendships form quickly.
5. Activities and social events to encourage engagement
One of the reasons it is so easy to make new friends and become engaged in life is the many activities and social events scheduled by the community.
You'll find a monthly calendar of planned activities to choose from, so you will surely come across something of interest.
You'll also discover how enjoyable it is to spend time with your new friends and neighbors at the many on-site social events. Transportation for any that occurs outside of the community is also provided.
6. Fitness and exercise
Remaining fit is a priority for aging well and you'll find many opportunities available if you make an assisted living community your new home.
Communities eliminate the challenges of finding and getting to a gym as they will typically offer a fitness center or equipment and classes on-site. You'll be able to walk out your front door and easily experience the type of routine that will help you remain in shape.
7. Scheduled transportation
If you are no longer driving or driving less, you may begin feeling that you are missing out on opportunities. Those who don't like to rely on others for rides may often find themselves choosing to stay at home instead.
Assisted living communities offer scheduled transportation so you can make your medical appointments, go shopping or attend entertainment events. You will no longer need to worry about traffic or parking and can just sit back and enjoy the drive.
8. Security and safety features
Becoming more concerned about safety and security is not uncommon as we grow older. Individuals may worry that their house is no longer safe or would need costly repairs or renovations to make it accessible. Navigating steps and stairs can also increase the risk of injury or falling.
Older adults who live alone often experience additional worries about becoming ill or injured and not being able to access help. A community provides the reassurance that there is always someone there if assistance is ever needed.
What can you expect in assisted Living at Seaside Hallandale Beach?
We hope you find this list of Hallandale Beach and Hollywood hotels helpful when you begin planning your vacation to unwind.
We're here to answer any questions you may have about senior living and invite your family to see how our community can encourage a higher quality of life.
We invite you to visit Seaside Hallandale Beach, which is designed to provide activities and social opportunities to help our residents in reaching their wellness goals.
Supporting our residents to age well, we believe you or your parents will enjoy the services and amenities available in our pet-friendly community:
A monthly social calendar of activities
Beautiful common spaces to socialize
Weekly housekeeping
A spacious courtyard
An outdoor pool with a covered patio
Personalized fitness and wellness programs
Scheduled transportation
Easy and safe access to the beach
If you have any questions about Seaside Hallandale Beach Senior Living, please contact us at 954-607-1000 or download our brochure.