The Danger of Loneliness and How Assisted Living Can Help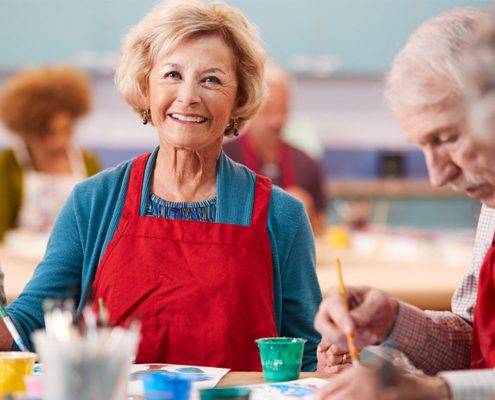 The danger of loneliness is a real concern. If your parent or loved one shows signs of loneliness or has become socially isolated, you should know that there can be detrimental health consequences.
They would also not be alone. The Centers for Disease Control and Prevention (CDC) cite a report from the National Academies of Sciences, Engineering and Medicine that more than one-third of adults aged 45 and older feel lonely and almost one-fourth of adults over the age of 65 are considered to be socially isolated.
Growing older and the danger of loneliness
It's important to differentiate between loneliness and isolation as they are not the same. A person can feel lonely yet still have contact with others. Those who are isolated lack these social connections. Being socially isolated can lead to loneliness for some but you can also feel lonely without being isolated.
The effects of loneliness and isolation create an increased risk in older adults because some of the defining circumstances that can contribute to these situations tend to occur more often as people grow older – such as living alone, losing a family member or friend, or living with a chronic illness.
The CDC also points to evidence that those aged 50 and older who are socially isolated or lonely may see an increased impact to their health, such as:
The risk of social isolation may equal those associated with smoking, obesity and physical inactivity.

Higher rates of depression and anxiety may result from loneliness and isolation.

Social isolation or loneliness has been associated with a 29% increased risk of heart disease and a 32% increased risk of stroke.

There may be a 50% increased risk of dementia.
Steps to prevent loneliness and isolation
There are several steps that you can take to encourage your parents to avoid being socially isolated or lonely. Supporting them to be proactive, with your help, can go a long way in promoting good health and their ability to age well.
Consider these actions:
Help your parents socialize with others.

Encourage family members and friends to visit.

Introduce communication technology to help close the gap.

Help them volunteer or give back to the community.

Encourage them to participate in activities they enjoy.

If possible, assist them to adopt a pet.

Encourage them to take care of themselves.
The antidote to loneliness: assisted living
There are many advantages offered at an assisted living community, but you'll find some of them can directly help your parents to guard against loneliness and isolation. 
Consider the steps mentioned above to prevent loneliness and how an assisted living community may meet those needs.
Help your parents socialize with others
It's much easier to avoid loneliness and isolation when you live in a community. Your parents will find it easy to meet their neighbors and other residents and will quickly learn how much they have in common.
Encourage family members and friends to visit
Family and friends will continue to support your loved one after the move. It's important for residents to know that they are still a vital part of their family and social circle. But in assisted living, the number of family and friends has grown. 
Technology can help close the gap
Assisted living communities will have Wi-Fi so that residents can use tablets, computers, and phones to communicate virtually. They often provide assistance if it's needed so that their residents can easily stay connected with their family, friends and outside world. There's no distance too far – another great benefit of technology.
Help them give back to the community
Your loved one will soon discover there are ways to volunteer or help out their neighbors. There may also be a group of residents that are actively contributing to a favored cause or project in the larger community.
Participating in activities they enjoy
Assisted living communities offer a monthly calendar of activities for their residents so there is bound to be more than a few that your parents would enjoy. Staying active and engaged is a great relief from loneliness.
Adopting a pet
If your parents are capable of being responsible for a pet, and if the community allows them, this is a hands-on way to fight off loneliness and isolation. Many communities also provide pet therapy or on-site pets for their residents to take care of.
Encourage them to take care of themselves
Your parents need to have a strong foundation of health, including eating right, sleeping well and getting physical and cognitive exercises. All of this and more is found at assisted living communities and with the convenience of being right outside their door.
Assisted Living at Seaside Hallandale Beach
We understand the detrimental health consequences that loneliness and social isolation can cause to older adults and hope that these suggestions can help. We also have designed our assisted living community to meet these challenges with meaningful activities and social opportunities to help our residents engage with others while living a fulfilling life.
If you or your family is considering assisted living, we invite you to visit Seaside Hallandale Beach. We are here to offer a helping hand to provide the needed services and to promote quality of life and independence.
Here are a few of the services and amenities you'll find available in our pet-friendly community:
A monthly social calendar of activities

Beautiful common spaces to socialize

Weekly housekeeping

A spacious courtyard

An outdoor pool with a covered patio

Personalized fitness and wellness programs

Scheduled transportation

Easy and safe access to the beach
If you have any questions about assisted living or Seaside Hallandale Beach Senior Living, please contact us at 954-607-1000 or download our brochure.

Click here to download the brochure: https://seaside.ac-page.com/dab-seaside-lp
https://seasidehallandalebeach.com/wp-content/uploads/2021/08/Loneliness-and-Assisted-Living.jpg
970
1200
seasidehb
https://seasidehallandale.kinsta.cloud/wp-content/uploads/2021/12/logo.png
seasidehb
2021-09-07 08:37:21
2022-05-11 14:52:33
The Danger of Loneliness and How Assisted Living Can Help