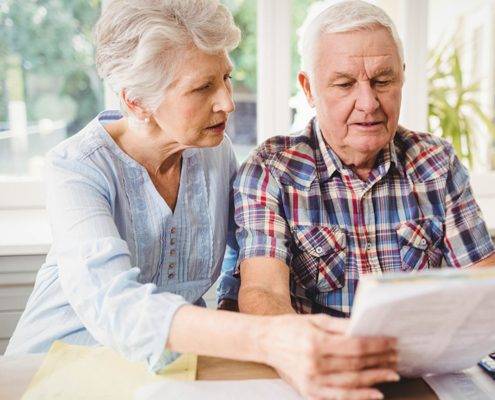 Is your parent or other family member beginning to need a little help with the activities of daily living? Possibly with getting dressed, bathing, grooming or preparing meals? If so, you may be considering the benefits of moving to an assisted living community vs bringing in services to the home.
Comparing the cost of assisted living with the cost of supplementing care at home is often one of the early steps in making this decision. Although the financial side is important, you'll also want to make sure you consider which environment might provide the better quality of life.
Benefits of assisted living vs living at home
Both options provide your loved one with a private residence, independent lifestyle and assistance with daily tasks, although at-home help is limited to the number of hours care is provided while services received at a community are available 24/7.
Assisted living benefits also extend beyond help with daily tasks and can positively impact your loved one's ability to live a fulfilling and meaningful life.
Consider these additional advantages your loved one will receive:
Healthy and delicious meals

Monthly calendar of activities to choose from

Fitness center and exercise classes

Opportunities to meet and make new friends

Social events both in the community and off-site

Scheduled transportation

Safe and secured community
What is the cost of assisted living? How to best compare to remaining at home
Caution should be taken if, like many families, you assume that remaining at home is always the most cost-effective option. The following guidelines may help you compare to gain a clearer view.
Compare apples to apples
Take into account all the factors. For example, you can't compare the cost of three hours per day of home care with the daily cost of assisted living as there is much more included in the community and it's available 24 hours a day and seven days a week.
Calculate the hours of services needed
Figure out how many hours of services would be provided at home. If only a few, remaining at home might be less expensive. But also include whether someone else will be preparing meals or driving your loved one to medical appointments. Is care or oversight needed during the night? Assisted living has staff available 24/7.
Factor in safety
A priority of course is the security of your loved one. Is it safe for your parents to remain at home during the time they would be left alone? Are they able to manage for themselves and just need a helping hand a few hours a day or is their safety at risk when alone?
What type of care is needed?
Does your loved one mostly need companionship or help with housekeeping tasks? Or do they need someone to cook and provide personal hygiene care? Will additional care be needed? These options can greatly affect the cost.
Costs vary widely across regions
Average cost calculators can vary widely on the price of assisted living. You'll find differences from what part of the country your parent is living in, the city and the specific organization. It's best to talk to someone in a community in your area.
What are the home care rates in your area?
To get the most accurate costs of home care, cost calculators also may only represent ranges and may not account for your specific family's needs. Talk to a few companies in your area who provide the level of services you're looking for to get accurate rates.
What are your local care options?
If your loved one will be receiving care at home, research what other options may be available in your community. Are there other family or friends who can contribute hours? Could your loved one attend an adult day center for a few hours daily?
Will the home be sold?
If the person moves to an assisted living community, will a spouse continue living at home? If the house is sold, you can eliminate all costs of keeping the home, including mortgages, rent, utilities, food and insurance.
Comparing expenses and fees for living at home
Track the costs for some of the more common factors when comparing the costs for remaining at home:
Mortgage, taxes and insurance

Utilities, cable, phone service

Groceries or meal deliveries

Housekeeping services

Transportation costs

Entertainment or socialization costs
Typical living expenses and fees included in assisted living
Monthly fees may include:
Residence

Utilities

Access to cable, phone, and Wi-Fi

3 meals a day

Housekeeping

Transportation

Monthly activities

Access to all amenities

Assistance care and monitoring
Benefits beyond cost
When considering the best option for your loved one, don't forget the intangibles. An accurate picture of what each home environment will actually cost should also include the effect on your loved one's physical and emotional well-being.
Consider how each living environment can provide the best opportunities to address these factors:
Feeling alone or becoming isolated

The chance to make new friends and share companionship

Activities that they'll enjoy and find stimulating

Transportation to attend different events, medical appointments and shopping

Supporting their feelings of empowerment and remaining engaged in life
Assisted Living at Seaside Hallandale Beach
We help support families who are making the decision of whether remaining at home or making a new life in an assisted living community is the right choice. We also understand the financial impact of senior living and are here to answer any questions about different care levels, prices, services and amenities.
It's important to include an extensive summary of all the costs for each option. You'll want to make sure you have a clear understanding of the services that are included and where you believe your loved one will receive the highest quality of care.
If you or your family is considering making assisted living home, we hope you will consider Seaside Hallandale Beach. We are here to offer a helping hand to provide the needed services and to enrich the quality of life and independence.
Here are a few of the services and amenities you'll find available in our pet friendly community:
A monthly social calendar of activities

Beautiful common spaces to socialize

Weekly housekeeping

A spacious courtyard

An outdoor pool with covered patio

Personalized fitness and wellness programs

Scheduled transportation

Easy and safe access to the beach
If you have any questions about assisted living or Seaside Hallandale Beach Senior Living, please contact us at 954-607-1000 or download our brochure.

Click here to download the brochure: https://seaside.ac-page.com/dab-seaside-lp