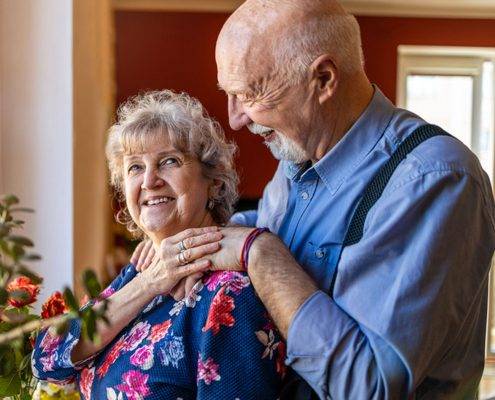 Is your parent or other family member beginning to need some additional help with their daily routine? Perhaps they could use a helping hand with dressing, bathing, preparing meals, or getting around. Or they may be experiencing loneliness or isolation.
Many families turn to an assisted living community to ensure their loved ones will have the opportunity to live the highest quality of life possible. If you're not familiar with all of the advantages, here are a few of the many benefits you'll typically find:
Assisted Living Community Benefits
Private residence
Your parents will still have the privacy of their own home and will be able to bring their own belongings. They'll have the chance to personalize the space to make it their own.
Independent lifestyle
They'll find support to continue living independently and making their own choices. Deciding when and what to eat, which activities to join, and when to go to sleep are just a few of the options that are in their hands.
Assistance with tasks of daily living
Help with daily tasks allows your parents to live an independent life even longer. Support with grooming, managing medications, or assistance with any mobility issues are ways a community makes life easier.
Nutritious and delicious dining options
Communities provide chef-prepared or inspired meals that are nutritious and satisfying to many different palates. Your parents will no longer need to plan, shop, cook, or clean up the kitchen.  
Maintenance-free living
If your parents are homeowners, they're no doubt familiar with all the responsibilities that come along with it. But in assisted living, they can leave all the maintenance, upkeep, and lawn work to someone else.  
Assisted living and the value of community
Even with all of the above benefits, what might be even more important is how the value of community can help your parents improve their quality of life.
Consider how these advantages can improve the quality of the care and support your loved one will receive to age well:
Opportunities to meet others and make new friends
Loneliness or becoming socially isolated can occur when older adults don't live near their family or if friends have moved away. If they're living with mobility issues or are no longer driving and have few transportation options, it's easy to feel disconnected.
An assisted living community offers activities, social events and amenities that provide natural ways to meet people. Your parents are almost guaranteed to make new friends.
Enjoying the support from other residents and care team members
Your parents will receive double the benefits when they move into an assisted living community. Not only will they be supported by a well-trained staff but they will also enjoy the camaraderie of their fellow residents. Sharing many of the same life experiences can make the challenges of daily life a little more enjoyable.
Encouragement to participate in activities
Your parents may have been very active earlier in their lives but have slowed down due to the consequences of aging. Having many activities available at home isn't easy but communities typically offer a monthly calendar full of events.
There are enough choices to offer something of interest to everyone. It's a fun way to spend time and enjoy the added social benefit of getting to know the other residents.
Support for physical and cognitive health
Taking care of both physical and cognitive health is a priority in assisted living communities. Residents have access to a fitness center, exercise equipment and classes. They can also take part in sporting games or sign up for lectures or brain stimulating games. Tapping into their creative side is also a great way to discover meaning and joy in life.
Easy ORB Kosher dining
Your parents may be finding it more difficult to shop and prepare healthy meals. They might begin substituting with snacks or even skip meals. Eating a healthy diet can become more of a challenge as they grow older but nutrition doesn't become less important. Seaside offers traditional Jewish Kosher Cuisine! Residents moving into our community electing to keep a Kosher diet will be pleased to know that the Orthodox Rabbinical Board (ORB) provides kashrus services to Seaside, insuring the highest Kosher standards possible. Kosher food is considered to be ritually pure, genuine, fresh and clean with many beneficial health effects!
Scheduled transportation
When older adults no longer drive, they can begin to feel left out from participating as they once did. They may want to avoid being dependent on others for rides but may have no choice if they live where there aren't transportation alternatives.
Most assisted living communities will offer scheduled transportation so your loved ones can make their medical appointments, shopping or join others to attend entertainment events.
Safety and security
Feeling safe and secure can make all the difference in quality of life for older adults. Most communities will be secured with personnel or systems. The community may offer a personal alarm system, and smoke and carbon monoxide detectors are mandatory. It is also reassuring for them to know that someone is there if they should ever need help.
Seaside Hallandale Beach Assisted Living
Residents needing help with some of the activities of daily living, such as dressing, bathing, grooming, or preparing meals, can still live an independent life.
A few of the other advantages you'll find at Seaside include private-suites and companion-suites, delicious ORB Kosher dining, new friendships, and scheduled activities. For some older adults, even more important might be knowing that they can continue to embrace their spiritual beliefs and honor their culture.
Resort-style ambiance. Warm hospitality. A lively atmosphere filled with vitality and friendly smiles. Plus the perfect Florida location between Golden Isles and Golden Beach. Seaside Hallandale Beach is a carefree assisted living that helps you enjoy every moment, knowing personalized care is always available.
Here are a few of the services and amenities you'll find available in our pet friendly community:
A monthly social calendar of activities

Beautiful common spaces to socialize

Weekly housekeeping

A spacious courtyard

An outdoor pool with covered patio

Personalized fitness and wellness programs

Scheduled transportation

Easy and safe access to the beach
If you have any questions about assisted living or Seaside Hallandale Beach Senior Living, please contact us at 954-607-1000 or download our brochure.

Click here to download the brochure: https://seaside.ac-page.com/dab-seaside-lp