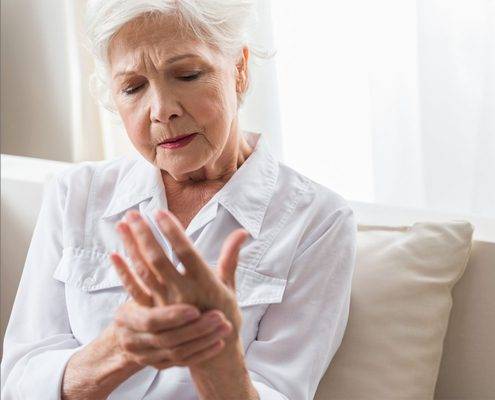 As we grow older, it's not uncommon to see signs it's time for assisted living like finding that a few daily activities are becoming a challenge, such as dressing, bathing or shopping and preparing meals. But that doesn't mean we're ready to give up our independence. Privacy and freedom to make our own choices is just as important as ever.
If you have a parent or spouse that is beginning to struggle with some of these tasks, you may be considering all the options that could make life easier but still preserve their independence. You might discover that the best answer could be an assisted living community.
The great distinction that assisted living offers is that your loved one can actually have the best of both worlds. Residents live in their own homes and enjoy privacy and independence. But when they need a helping hand, assistance is there and available 24/7.
5 signs it's time for assisted living
Many families wonder how they will know if it's time to begin the search or when their loved one would benefit from assisted living. Each individual's situation can be different but the following are a few signals that it might be time for a little help.
Having trouble with the activities of daily living  
Your loved one may be finding it more difficult to safely bathe, get dressed, manage medication, cook healthy meals and keep up with household responsibilities. These tasks are often referred to as the activities of daily living,
Assisted living might be the right choice for those living alone or whose needs exceed what the spouse or other family members can provide. There you'll find help with the daily tasks, as well as delicious and nutritious food and a completely maintenance-free lifestyle.
Becoming more isolated from others
One of the more dangerous elements of growing older is that individuals may also become more isolated. There are many causes that contribute, including a declining health condition, trouble with mobility, no longer driving or a lack of other transportation options.
Once cut off from social connections or the chance to take part in activities, loneliness can set in. And if the person doesn't live near family or friends, feeling isolated can have serious consequences to both physical and mental health.
Loss of mobility or beginning to fall
Most homes weren't built with aging well in mind. Your loved one may be navigating steps going into and out of the home, more stairs once inside, narrow hallways and doorways, as well as bathrooms and kitchens that can't accommodate someone with needed assistive equipment.
Although not a normal part of aging, tripping and falling can also occur and is one of the leading causes of injuries for older adults. Assisted living provides a home, and community, that is designed to be age-friendly.
No longer eating healthy or able to shop
It's not always easy to plan, shop and cook nutritious meals even though they're needed to fuel both bodies and minds. There's also evidence that diet can play a role in lowering risk factors for osteoporosis, high blood pressure, heart disease and certain cancers.
Yet obstacles often get in the way. Your loved one may be too tired or has lost interest in meal preparation. It might be harder to cook for only one or two people. Or they may not have convenient transportation to the grocery store.
Struggling to keep up with housekeeping and maintenance
Homeownership requires money and the energy to carry out all of the tasks. Or the ability to find professionals who can do the work. As we grow older, this can seem overwhelming.
Signs that it could be time for assisted living may also be when housekeeping becomes too much of a challenge. Keeping up with the daily cleaning may take more time and energy than a person can give.
The benefits of assisted living
You'll likely find that so many of the benefits of assisted living line up with the most common needs you may be noticing for your parent or loved one.
The following list outlines some of the services and amenities that you'll discover in a community:
Private residence and privacy
Many older adults are hesitant to move into senior living because they don't want to lose their privacy. But individuals live in their own residences.  
A supportive and independent lifestyle
Residents maintain their independence and make their own decisions and choices in assisted living, including how to spend their days and what they would like to eat.
Great opportunities to meet and make new friends
It can be harder to meet new people if you're not able to get out as much but in assisted living, your loved one will meet their neighbors and other residents easily at the activities and social opportunities provided.
Healthy and delicious meals
Your family member will no longer have to plan, shop or prepare meals since it's all taken care of. Residents have many choices to satisfy their tastes and all of them will be nutritious.
Wide range of activities to match a variety of interests
Boredom is practically impossible when an assisted living community is home. You'll find a monthly calendar of activities to choose from so there's bound to be something for everyone.
It's Time for Assisted Living at Seaside Hallandale Beach
If you or a family member is showing signs it's time for assisted living, consider assisted living as the place to be best supported. You'll discover many benefits that can do just that. Having the features that are needed to age well and that provide a little help can make all the difference in a life well-lived.
We hope you will consider Seaside Hallandale Beach if assisted living is your choice. We are here to offer a helping hand to provide services that enrich the quality of life and independence.
Here are a few of the amenities you'll find available in our pet-friendly community:
A monthly social calendar of activities

Beautiful common spaces to socialize

Weekly housekeeping

A spacious courtyard

An outdoor pool with covered patio

Personalized fitness and wellness programs

Scheduled transportation

Easy and safe access to the beach
If you have any questions about assisted living or Seaside Hallandale Beach Senior Living, please contact us at 954-607-1000 or download our brochure.

Click here to download the brochure: https://seaside.ac-page.com/dab-seaside-lp