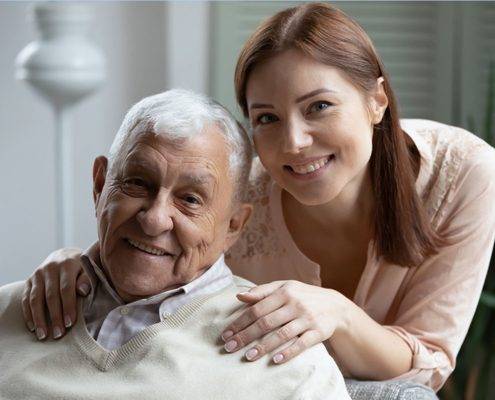 Moving to assisted living can be an emotional struggle for some. Are your parents struggling with daily tasks, such as bathing, getting dressed, preparing meals or housekeeping? Depending on how much help they may need, you might have considered different options.  
If a more long-term solution is needed and assisted living could be the right fit, you may find your parents are hesitant. Sound familiar? It's not uncommon for older adults to be apprehensive about making a move.
Your parents and assisted living: why they may be uncertain
One of the primary reasons your parents may be holding back on making a decision is that this move represents more than just the change of address. For some older adults, it may symbolize a loss of independence or control. Once they understand that they will still have their own residence and make their own decisions, they'll feel much better.
Another reason for hesitating may be what they'll leave behind. If they've lived in their current home for many years, it can invoke an emotional response to think about leaving the place they raised their children or spent many holidays or family gatherings. This is understandable.
Also, for many, the thought of moving itself may seem overwhelming. The idea of going through everything or having to organize what to take can be a little frightening at first. You can easily help them understand how the process of downsizing works and reassure them that they will have a lot of help.
Understanding the benefits of an assisted living community
Once your parents become familiar with all of the advantages of assisted living, it is much easier for them to better understand how much easier their life might become. It's helpful to research ahead of time all that a community offers so that you can readily share this information.
Help paint a clearer picture of how this decision could not only help them maintain their independence even longer but also the ways that will contribute to making life less stressful and more fulfilling.
How to help your parents make the decision about assisted living
There are several steps you can take to support your parents in making the decision that is best for them. If you're not sure where to begin, you may want to consider these suggestions to start the conversation:
Make sure they know this is their decision to make
Unless your parents are truly unable to make the call, this should be their decision. Let them know that you respect that and are there for support. If they feel backed into a corner, they will hesitate even longer.
Discuss all the available options
Everyone likes to know that they have choices. Do your research first and then discuss all of the options that are available. You can also talk about pursuing one course of action now and leaving others to consider down the road.
Compare the options with their needs
A very effective way to help your parents understand how beneficial assisted living could be is to discuss specific needs they have with specific advantages of community life. For example, if cooking and shopping is difficult, talk about the healthy and delicious meal programs available.
Bring in helpful information about the benefits
Many people are unfamiliar with the services that assisted living can offer. Make sure to research all of the benefits and amenities that your parents can enjoy and discuss each one of them. Point out what they may be missing by remaining at home.
Schedule a community tour
Nothing may make the point clearer than to schedule a tour of a few communities, with their permission, so that your parents can see firsthand what their new lifestyle could be like. Help them prepare by creating a list of questions they might ask or what to look for.
Ask for their honest opinions
Ask your parents if there are specific concerns that they have that may be holding them back from moving into an assisted living community. Are there fears or worries that they haven't expressed? Encourage them to be open.
Give them time to process
This is a big decision and if at all possible, shouldn't be rushed. The best scenario is for families to have these discussions early and often so it is not in response to a crisis. However it unfolds, it's always better if your parents have time to think it through.
Meet again to discuss and answer any questions
If there is time, it can help to remind your parents that you are just beginning the research or discussion and that there is time for them to consider and revisit their options in the future.
Illustrate how you can help them with the moving process
For some parents, the thought of selling their home and moving can be overwhelming. Remind them that although it can be a significant task, it is also very doable and that they will have plenty of help.
Simplify the process
Think ahead to what all will need to occur and be prepared to present a possible plan or to answer any of their questions, such as how they will sell their home, choose a community, downsize their possessions and make the actual move.
Moving to Assisted Living at Seaside Hallandale Beach
We're here to support your family in helping your parents decide whether making a new life in an assisted living community would be the right choice. We hope you'll find these 10 strategies helpful.
If you or your family is considering assisted living, we invite you to visit Seaside Hallandale Beach. We are here to offer a helping hand to provide the needed services and to enrich the quality of life and independence.
Here are a few of the services and amenities you'll find available in our pet-friendly community:
A monthly social calendar of activities

Beautiful common spaces to socialize

Weekly housekeeping

A spacious courtyard

An outdoor pool with a covered patio

Personalized fitness and wellness programs

Scheduled transportation

Easy and safe access to the beach
If you have any questions about assisted living or Seaside Hallandale Beach Senior Living, please contact us at 954-607-1000 or download our brochure.

Click here to download the brochure: https://seaside.ac-page.com/dab-seaside-lp