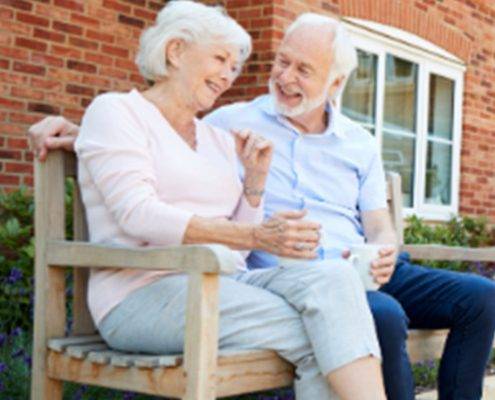 Are you or a family member living independently but beginning to need help with a few basic daily activities? This could include tasks such as bathing, dressing, grooming, preparing meals or managing medication.
If your answer is yes, you may find that an assisted living community could offer exactly what is needed. If you're not familiar with their services, they make it possible to live a mostly independent life while receiving assistance.
Other benefits include a private residence, maintenance-free living, housekeeping, meals, laundry and scheduled transportation. These are in addition to the planned activities and social programs that provide opportunities for residents to make new friends and connect throughout the community.
Pricing and levels of care in assisted living
Assisted living communities are not one-size-fits-all. Different levels of care, as well as prices, may be offered. When considering where your loved one's needs will be best met, you'll want to better understand how services might be bundled and priced.
The following are two ways communities often charge for their fees:
All-inclusive
This type of pricing includes all of the community's services for one monthly payment. This can be more convenient and economical for those who have several assistance needs.  What is typically included?
Private apartment

Meals and snacks

Utilities

Activities

Transportation

Some health services may be included
A la carte
Families that choose this option only pay for the individual services they need. This can be more efficient for some individuals as you're not paying for services that you don't need or use. Depending on the community, you may be able to add or delete services monthly.
How do families choose the right option?
Deciding the price program that would be more cost-effective generally depends on the level of care the individual requires. The fees charged will increase as the needs for assistance rises.
Levels of care in assisted living
Lower levels of care
This care level is typically for those residents who are mobile and generally need less assistance. They aren't living with memory loss and are generally able to be more independent. What they need assistance with are some of the daily tasks, such as getting dressed, but can often take care of their own hygiene or other activities.
Higher levels of care
These residents may need assistance with mobility and help with grooming, bathing and getting dressed. There may also be some memory loss or difficulty in making decisions or managing medications. They might be at a higher risk of falling and require more one-on-one assistance.
Memory care
This level of care is for those with Alzheimer's or another form of dementia that requires staff with a higher level of training. As part of an assisted living community, this type of care may be located on a different floor or wing of the building. More attention and supervision are required as a resident's support needs increase as the illness progresses.
Seaside Hallandale Beach levels of care
In order to better serve our residents, Seaside Hallandale Beach Assisted Living also offers three different levels of care and pricing based on daily assistance needs.
Activities of Daily Living (ADLs)
The following is a summary list and description of the basic ADLs that your family member may require assistance with.
Ambulating: The ability of the individual to move from one position to another or walk independently. Managing medications: Ability to obtain medications and take them as directed.
Feeding: Ability of individuals to feed themselves.
Dressing: Ability to select appropriate clothes and dress themselves.
Personal hygiene: Ability to bathe and groom oneself, maintain dental hygiene, nail and hair care. Also includes the ability to get to and from the bathroom. Continence: Ability to control bladder and bowel function.
Transportation and shopping: Ability to purchase groceries or attend events and manage transportation, either via driving or organizing other means. Managing finances: Ability to pay bills and manage personal financial assets.
Managing communication with others: Ability to manage telephone and mail.
Levels of care offered at Seaside Hallandale Beach Assisted Living
The following is a list of services provided for each level and their current pricing. Please call to further discuss what specific services and care that your loved one may need.
Level I Services: $500
Medication management (includes the following):
Medication assistance

New ordering/refill assistance with medications

Medication clarification as needed and ongoing with physician
Level II Services: $750
Medication management as listed above in Level I
Basic Activities of Daily Living (ADL) assistance as needed
As needed assistance with bathing and dressing
Level III Services: $1,000
All services included in Level I and Level II
Accompaniment to physician appointments or procedures
Routine bathing assistance
Routine Activities of Daily Living (ADL) assistance
Routine incontinent care as needed (supplies not included)
Assisted Living at Seaside Hallandale Beach
When considering different assisted living communities, remember that care levels, prices, services and amenities can vary. As with all senior living communities, you'll want to make sure you have a clear understanding of all the services that are included and whether you are contracting for an all-inclusive fee structure or a la carte.
If you or your family is considering making assisted living your home, we hope you will consider Seaside Hallandale Beach. We are here to offer a helping hand to provide the needed services and to enrich the quality of life and independence.
Here are a few of the services and amenities you'll find available in our pet friendly community:
A monthly social calendar of activities

Beautiful common spaces to socialize

Weekly housekeeping

A spacious courtyard

An outdoor pool with covered patio

Personalized fitness and wellness programs

Scheduled transportation

Easy and safe access to the beach
If you have any questions about assisted living or Seaside Hallandale Beach Senior Living, please contact us at 954-607-1000 or download our brochure.