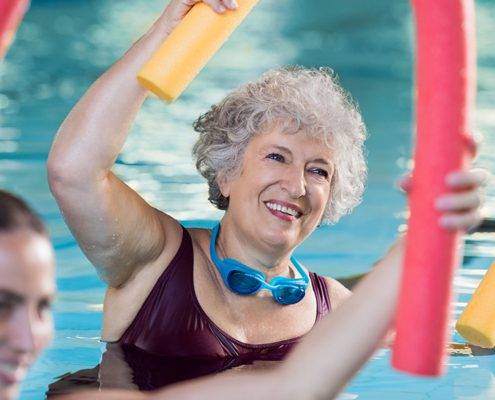 Are you considering an assisted living community for yourself, parents or other family members? If so, you may be surprised at all of the benefits that are offered.  
You might have known about the help with daily tasks and the availability of nutritious meals and activities. But one area that is often overlooked?
The advantage to your loved one's physical health.
The following is a summary of how a community's services and amenities can contribute to improved health.
The benefits of assisted living on physical health
In addition to the other services provided, consider these amenities when determining if they might be beneficial to your loved one's quality of life and wellness:
Fitness centers
Many assisted living communities provide a fitness center or classes that can encourage their residents to get into better physical shape. Whether building strength or increasing oxygen flow to muscles, your parents will be supported to maintain their physical health.
They may learn different techniques with small hand weights or resistance bands to build up muscle mass. Or they might benefit from instruction to help them maintain their balance, which can minimize the chance of falling.
Other activities might include stretching exercises to improve flexibility and decrease their risk of injury while also learning how to relax and release stress.
Physical activities
There are many planned physical activities offered at an assisted living community. If your parents don't enjoy formalized exercising, they may discover there is more than one way to get moving.
Depending on the community, they may have the chance to play games or continue their love of gardening. They might find they enjoy walking clubs or water aerobics classes which are great ways to build strength while also having fun.
Today's assisted living communities know the importance and the difference of not just keeping people busy, but to plan activities that add meaning and joy to their lives.
Healthy nutrition
Another great health benefit of assisted living is that your parents can eat nutritious and delicious meals without having to do any of the planning, shopping, cooking or cleaning up.
They'll find a variety of menu choices with chef-inspired meals. They'll also enjoy the benefits of a community's dietary knowledge about healthy nutrition and also the latest trends, such as how to use the right spices to enhance the flavor of food.
And if your parents have special dietary needs, they're covered as well. Talk to the communities you're considering and if possible, arrange for all of you to have a meal there and taste for yourself. 
Seaside offers traditional Jewish Kosher Cuisine! Residents moving into our community electing to keep a Kosher diet will be pleased to know that the Orthodox Rabbinical Board (ORB) provides kashrus services to Seaside, ensuring the highest Kosher standards possible. Kosher food is considered to be ritually pure, genuine, fresh and clean with many beneficial health effects!
Socialization
People often overlook the importance of socialization and the detrimental effects on health that loneliness or isolation can bring. You may be surprised to learn the positive impact that sharing activities with others can bring to physical and cognitive health.
Assisted living offers a natural and comfortable way to meet and make new friends, whether it's at activities, during meals or even crossing paths in the common areas.
Your loved one will be surrounded by residents who share the same life experiences. There will be many choices for activities or social events to attend. And of course whether to participate is always up to your family member.
Additional benefits of assisted living
The advantages of moving into an assisted living community continue if your parents want to keep living an independent life – but could use a helping hand with daily tasks.
Private residence
Most communities offer individual residences so there is no need to sacrifice privacy. Your parents can personalize their space to make it their very own and they'll enjoy the option of staying at home or joining in with others when they choose.
Support for an independent lifestyle
When individuals decide to make their home in an assisted living community, they'll find support to continue enjoying an independent life. The choices are all theirs to make. In fact, they'll continue to live much as they do now, but benefit from a lifestyle that is easier, simpler and often safer.
Assistance with tasks of daily living
If your loved one is beginning to need a little help with basic tasks, community life might be the perfect place to call home. You'll find trained staff to assist with dressing, bathing, grooming, managing medications and several other available services.
Maintenance-free living
After a lifetime of home responsibilities, most residents of assisted living communities will tell you how much pleasure there is in no longer having to take care of all the maintenance required, both inside and out. They also enjoy the extra free time they now have to spend on activities they enjoy.
Scheduled transportation
Are your parents no longer driving? That's no problem when they call an assisted living community home. They won't need to worry about missing out as most communities provide transportation to shopping, entertainment and other planned activities.
Assisted Living at Seaside Hallandale Beach
Seaside offers many opportunities for our residents to participate in fun and healthy activities to support their goals of aging well and living a high quality of life, including support for their physical health as well as remaining socially connected and engaged. If you or your family is considering senior living, we hope you will visit Seaside Hallandale Beach. Seaside offers resort-style living with resort-inspired amenities!  
Daily social activities

Weekly housekeeping

A spacious sunny courtyard

Outdoor therapy pool 

Wellness programs

Scheduled transportation

Easy and safe access to the beach
If you have any questions about Seaside Hallandale Beach Senior Living, please contact us at 954-607-1000 or download our brochure.

Click here to download the brochure: https://seaside.ac-page.com/dab-seaside-lp