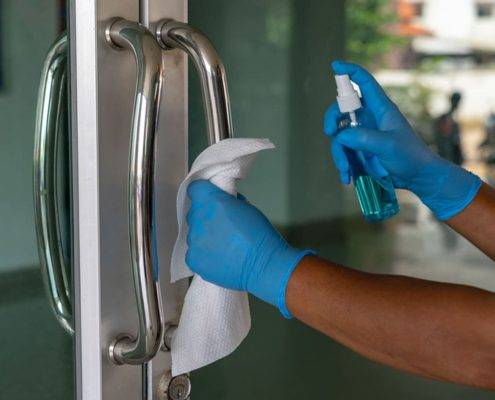 The pandemic has been a challenge to everyone. As we look forward to its end, variants seem unwilling yet to let go of their grip.
But if assisted living could increase the quality of life for a parent or family member who is socially isolated or needs help with the tasks of daily living, you may be wondering if it's safe for them to make the move now.
With all the advantages of assisted living, you know your loved one will be supported to age and live well. Yet you may be surprised to learn about the Covid measures communities have taken to provide a safe living environment for their residents.
Covid safety in assisted living
Along with following the guidelines recommended by the Centers for Disease Control and Prevention (CDC), and creating and putting pandemic safety policies and procedures in place, these are a few features that assisted living communities may have or are currently implementing:
Installing fresh air and particulate air-filtration and ventilation systems to help prevent the spread of airborne illnesses

Use of disinfectant ultraviolet lighting

Antimicrobial coatings and disinfecting for high touch surface areas such as handles, knobs and switches

Vaccinations of residents and staff

Testing and managing any positive tests

Social distancing

Wearing masks

Screening visitors and vendors and restricting when necessary

Limiting group activities when needed yet finding ways to still provide socialization

Heightened handwashing practices

Increased and intensive cleaning and disinfecting protocols

Separating residents, workers and visitors with Covid-19 symptoms

Educating residents and staff about prevention practices
Covid safety: assisted living vs. home
Compare these community safety measures with what is available if your loved one remains at home:
Along with intensive disinfecting and deep sanitizing protocols for heavy traffic areas and high-touch surfaces, many communities are utilizing technological solutions for air purification and ventilation systems that can help reduce infections from viruses.
Assisted living can help control unknown exposures to Covid by requiring frequent tests of residents, the care team and staff. Many conduct temperature tests for everyone who enters the community.
Even during times of quarantine, assisted living continued to provide easy access to meals, medications and other assistive services when needed – reassuring both residents and their families that help is always available.  
For older adults who lived at home, many needed to rely on adult children or outside delivery services to provide food or prescriptions, which also possibly exposed them to those who may be in contact with many different people in the outside world.
Individuals living at home were often left to decipher the latest and sometimes conflicting guidelines about how best to protect themselves. But communities have access to resources to supply vaccinations and boosters, be informed about effective preventative practices, and how best to put enhanced infection control measures in place. 
Assisted living advantages beyond physical health
Experienced in monitoring up to date changes, assisted living communities have prepared response plans and are ready to adapt to a changing environment.
But one of the greatest advantages of living in a community instead of at home is the support in place for their residents' entire wellness – every day and during Covid.
Those who live at home may be at a higher risk for loneliness and social isolation and during this pandemic, those numbers have increased. Early on, there were massive shut-downs and stay-at-home orders, resulting in much of the country cut off from their families and friends. Even today, there continue to be restrictions or recommendations to avoid groups as we continue to face the emerging variants.
But while senior living communities normally provide opportunities to meet and make new friends and interact with others at social events, activities or in the common areas, communities took steps during the early days of the pandemic to keep residents safe but to make sure they still had interaction with the staff, their friends and families.
The benefits of assisted living:
There are many advantages to community life, including:
Personal and private residence

Support for an independent lifestyle

Assistance with the tasks of daily living

Opportunities to make friends and socially interact

Several activity and entertainment choices

Delicious and nutritious dining options

Maintenance-free living

Scheduled transportation

Secure and safe communities
If your loved one would benefit from assisted living, talk to a community team member today to discuss what safety measures are in place.
Compared to living alone, you may discover the residents are safer, healthier and happier, sharing their lives with others in a carefully controlled and monitored environment – by those they trust.
Assisted Living at Seaside Hallandale Beach
We understand the challenges when discussing assisted living with your parents and hope these suggestions are helpful. We're here to answer any questions and we invite your family to see how a senior living community can encourage a higher quality of life.
We hope you will visit Seaside Hallandale Beach, where our community is designed to provide activities and social opportunities to help our residents live a fulfilling and engaged life.
We support our residents in aging well and believe your parents will enjoy the services and amenities available in our pet-friendly community:
A monthly social calendar of activities

Beautiful common spaces to socialize

Weekly housekeeping

A spacious courtyard

An outdoor pool with a covered patio

Personalized fitness and wellness programs

Scheduled transportation

Easy and safe access to the beach
If you have any questions about Seaside Hallandale Beach Senior Living, please contact us at 954-607-1000 or download our brochure.

Click here to download the brochure: https://seaside.ac-page.com/dab-seaside-lp