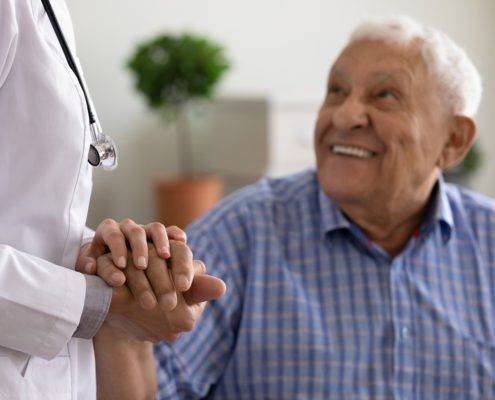 Having access to quality health care is of primary importance, especially as we grow older. Most individuals consider the availability of medical care when choosing where to retire. When considering senior living options online, a popular Google search is for those located close to excellent medical services.
The criteria for finding the right community for yourself or a loved one can include the care staff, activities and amenities, but families also prioritize the proximity of hospitals or medical centers.
If you're looking at a move to a senior living community in the area, you have several choices when it comes to physicians and hospitals near Hallandale Beach.
Hospitals near Hallandale Beach
There are over 30 hospitals and urgent care centers in Broward County where Hallandale Beach is located – so top of the line health care is never far away. The following highlights a few hospitals near Hallandale Beach that are less than 15 miles away and offer specialized programs for seniors:
1. Aventura Hospital
Located only 5 miles to the south in Aventura, FL, this accredited 467-bed acute care facility offers both inpatient and outpatient services and specializes in diagnostics, surgery and cancer care, as well as:
24/7 Emergency Room
Comprehensive Stroke Center
Level II Trauma Center
Orthopedics and Spine Institute
Robot-assisted surgery
Structural heart procedures
The hospital has also received the following awards and recognitions:
America's 250 Best Hospitals from Healthgrades (2021)
100 Best Hospitals for Orthopedic Surgery from Healthgrades (2020-2021)
100 Best Hospitals for Spine Surgery from Healthgrades (2020-2021)
America's 100 Best Hospitals for Prostate Surgery from Healthgrades (2021)
2. Mount Sinai Medical Center
Located only 12 miles to the south in Miami Beach, Mount Sinai Medical Center has an on-going partnership with New York's Columbia University, providing the community access to the only Ivy League-affiliated cardiovascular, urology, orthopedics and cancer programs in South Florida.
Other recognitions include:
Top 5% of hospitals in America for three years in a row – 2022, 2021, 2020
The only hospital in Miami-Dade County to be named one of the nation's 100 Top Hospitals by IBM Watson Health
Having the #1 cardiac surgery survival rate in Florida
Other specialties of Mount Sinai Medical Center include:
Recognized as a Primary Stroke Center with The Joint Commission
Awarded the Highest Recognition by the American Heart Association
South Florida's largest private, non-profit teaching hospital
3. Memorial Regional Hospital South
Located 7 miles to the north, this hospital in Hollywood, FL is home to Memorial Rehabilitation Institute, South Florida's largest provider of physical rehabilitation services.
As one of the largest hospitals in Florida, the ER and Level I Trauma Center is staffed by board-certified trauma surgeons to handle the most critical situations. Also included in the hospital are:
Memorial Cardiac and Vascular Institute
Memorial Cancer Institute
Memorial Neuroscience Institute
On-line and in person education classes are also available through the hospital and cover several health and wellness topics.
Assisted Living at Seaside Hallandale Beach
We hope this list of medical care and hospitals near Hallandale Beach provides useful information if you're considering your senior living options in the area. It is reassuring to know that quality services are nearby in the event that your health needs should ever change.
We're here to answer any questions you may have about senior living and invite your family to see how our community can encourage a higher quality of life.
We invite you to visit Seaside Hallandale Beach, which is designed to provide activities and social opportunities to help our residents in reaching their wellness goals.
Supporting our residents to age well, we believe you or your parents will enjoy the services and amenities available in our pet-friendly community:
A monthly social calendar of activities
Beautiful common spaces to socialize
Weekly housekeeping
A spacious courtyard
An outdoor pool with a covered patio
Personalized fitness and wellness programs
Scheduled transportation
Easy and safe access to the beach
If you have any questions about Seaside Hallandale Beach Senior Living, please contact us at 954-607-1000 or download our brochure.