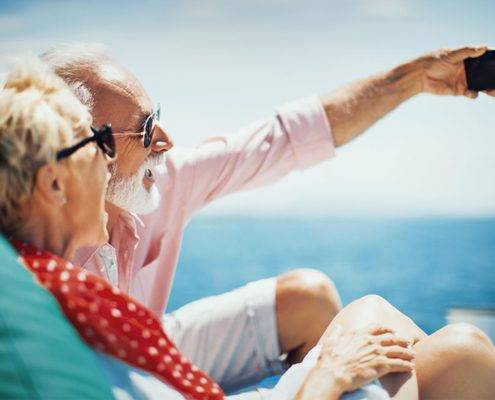 Are you or a loved one considering moving into an assisted living community? You may be wondering about the advantages this life could offer.
Not only will you enjoy a private residence and maintain your independence, many residents will tell you that their quality of life actually improved once they made the decision to move.
Not all communities are alike, of course, so you'll want to do your research. But read about the following benefits of assisted living to get a better idea of what you might find:
1. Help with the daily activities of living
One of the main reasons families turn to assisted living is described in its name. You'll find assistance when it's needed, allowing you to remain as independent as possible. This can include help with:
Personal hygiene, bathing and grooming
Dressing
Mobility to and from the bathroom or transferring to and from the bed
Walking
Meal preparation and eating
Getting to and returning from dining areas or to take part in activities
Managing medications
Housekeeping and laundry
Transportation
The appeal and benefit of assisted living is being able to live your own life while receiving help when and where you need it.
2. The chance to build strong social relationships
Loneliness is not just a state of mind. The National Institute on Aging cautions that as we grow older we may become more vulnerable to social isolation. Serious health risks can result, including:
Heart disease
High blood pressure
Obesity
Weakened immune system
Anxiety
Cognitive decline and depression
Alzheimer's
As we grow older and experience the natural progression of loss, we may also lose our sense of connection to the world. A big benefit of assisted living is the natural and easy way to build relationships with others. Participating in planned activities and attending social events makes meeting new friends almost automatic.
3. Opportunities to get into and maintain good physical shape
For most people, getting motivated to exercise is a challenge. And even if there are opportunities at the local gym or recreation center to participate in activities, getting there can be all it takes to remove the inspiration.
But in assisted living communities, all the barriers have been removed. An on-site fitness center with classes or instruction on the proper techniques will help you get the most out of your efforts.
Not only can exercise become easier but it can also be much more fun. Joining your new friends for yoga or a swim in the pool combines a social element with physical fitness.
4. Keeping your brain exercised and cognitively in shape
Working out your brain is just as important as working out your muscles. But where do you begin? You'll find activities at an assisted living community have already been planned for you.
It couldn't be easier. All you have to do is show up. Learning a new skill or playing games that exercise your mind can lead to improvement in thinking or resolving challenges or problems.
Crossword puzzles, playing Bridge or attending a lecture can help boost your mental aptitude. Whether playing brain games alone can reduce the risk of dementia is still being researched according to Harvard Medical School, but they are seeing evidence that it might improve select brain skills and play an important role in maintaining overall brain health.
5. Focus on healthy food and nutritious meals
Providing your body with the right fuel is crucial. According to the National Council on Aging, not only will it help you maintain your independence longer, you may also reap the benefits of a decreased risk of chronic conditions, such as diabetes or heart disease.
Remember that as we grow older, our metabolism slows down so we need fewer calories. Eating less makes sense but make sure you're getting the right nutrients.
Assisted living does all the work for you when it comes to planning meals, shopping, cooking and cleaning up. You'll find menu choices that are not only nutritious but delicious as well. And if you need special dietary attention, that's available too.
6. Private residences but with a maintenance-free lifestyle
You'll be able to take advantage of your privacy but also know that right outside of your door are activities and opportunities to help you live an engaged life.
When you need assistance, the staff is available 24/7 to lend a hand. Most residents find it comforting to know that there is always someone there – just in case – to encourage and support all your efforts.
And one of the best benefits of assisted living is that life becomes much easier. There are no more homeownership responsibilities and headaches. No more upkeep or maintenance. And all of that new-found freedom is now yours to enjoy, however you wish.
7. Scheduled transportation to appointments, shopping and entertainment.
Imagine a life where you no longer have to fight traffic, worry about parking, or maintain and insure a car. And you won't miss out on anything.
Many residents love the idea of taking advantage of the scheduled transportation, planned and coordinated for them. They can now go to their medical appointments, a sports outing or an afternoon of shopping and enjoy the freedom as a passenger.
If you are still driving and would like to bring your car, many communities provide parking. But even then, don't be surprised if you're often tempted to let someone else do the driving.
Seaside Hallandale Beach Senior Living 
At Seaside Hallandale Beach Senior Living, we not only offer the help you might need, but we take it a little further. Starting with a perfect location between Golden Isles and Golden Beach, you'll find your new home is in the midst of a resort-style ambiance.
Our assisted living suites all include medical alert systems. You'll find a full monthly social calendar and beautiful common spaces to socialize. We think you'll appreciate our weekly housekeeping, Kosher-style dining, spacious courtyard, an outdoor pool with covered patio, personalized fitness and wellness programs, scheduled transportation – and we're pet friendly.
You'll also have easy and safe access to the beach across the street by using the walk-over.
We hope you'll call to find out more about embracing your new life in our 100% renovated assisted living community.
If you have any questions about Seaside Hallandale Beach Senior Living or how to make this the location for your new home, please contact one of our advisors at 954-607-1000.

Click here to download the brochure: https://seaside.ac-page.com/dab-seaside-lp