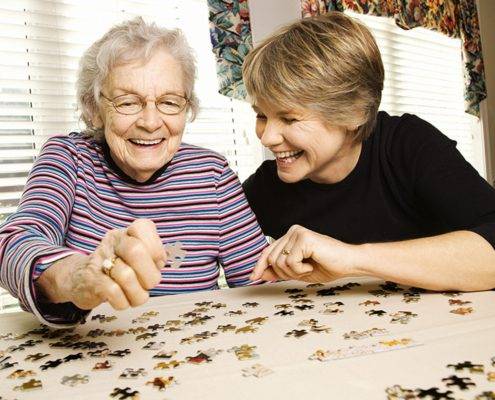 Is your parent beginning to struggle with the tasks of daily life? Maybe they find it more difficult to bathe, get dressed or shop and cook healthy meals. It's not uncommon for older adults to find some everyday activities more challenging and they may become frustrated, angry or feel helpless.
But did you realize there is another emotion that often goes unrecognized?
It's fear.
Why might your parent be afraid and what can you do about it?
Common fears of seniors
There are many reasons your parent may become afraid, especially if living alone. Here are a few of the more common ones:
Fear of falling or becoming ill
Even though your parents may tell you they want to stay in their home, they may also become fearful of living alone. One of the biggest fears is that they will fall or become seriously ill and not be able to reach help.
Fear for their safety
If your loved one lives alone, the sounds and bumps in the night can cause apprehension. A house becomes extremely quiet when you're the only one there. Your parents may begin to worry that someone could be in the house or be concerned with their safety.
Fear of losing their independence
Older adults may become more uncomfortable living alone but they may also feel that they have no choice because one of the top fears is losing their independence. Your parent, like many, may not be truthfully sharing with you their concerns because they fear this will trigger a discussion or decision for them to no longer live at home.
Fear of loneliness
Those who live alone or only with their spouse or partner may begin to feel lonely if they aren't able to leave the house easily or get together with friends. If they're no longer able to drive or if there are few transportation options can make matters even worse. Eventually, feelings of isolation can begin to creep in.
Feelings of depression
It's also not uncommon for those who live alone to begin feeling sad or even depressed. If they're isolated from others, or from attending activities as they once did, the days and nights can seem awfully long. Living alone also allows for a lot of time to think back on the days when they had a full life, were active in their career or raising children. The contrast can cause them to feel sad.
Why fears are not always talked about
Adult children are often surprised to learn that their parents have been living with these worries without saying anything. But older adults also live with the strain and stress of "what if." Such as:
What if I tell my children that I'm not doing well at home? What will happen?
Will I lose my choice to remain in my home if that's what I still want?
Will I lose my independence to make my own decisions?
How assisted living can relieve seniors' common fears?
If you or your parent is not familiar with today's assisted living communities, you owe it to yourselves to schedule a visit. There are many advantages that can address their concerns.  
Here are five ways that assisted living can help your parent feel safer and put their fears to rest.
You're never truly alone
Although we all want our independence, there is comfort in knowing that someone is there if help is ever needed. That's why assisted living offers what many refer to as the best of both worlds. 
Your parents will have their own residence and make their own decisions, but they'll know that if something were to happen, assistance is there 24/7.
Assisted living helps you remain independent
Speaking of independence, losing it is one of the top fears of an older adult. They may not realize that moving to an assisted living community will actually help them hold on to that. 
Having a little assistance when needed, such as bathing or getting dressed helps an individual continue to live an independent lifestyle.
Assisted living is designed for aging in place
Your parent may currently be living in a house that wasn't built with aging in mind. Many homes have steps and stairs, narrow doors and hallways and inaccessible bathrooms and kitchens if assistive equipment is ever needed. 
Their residence in assisted living has taken all of that into consideration. And they won't need to make any expensive remodels.
No need to worry about isolation
One of the best benefits of assisted living is that even though your parents will have their own private residence, all they'll need to do is open the door and they'll find themselves surrounded by possibilities. 
They'll discover activities, fitness centers, healthy and delicious dining, social events and creative classes. And the choices are all theirs to make.
Meeting and making new friends
It's never been easier to meet new people and begin building strong friendships. Your parents will discover how much they have in common with their neighbors and other residents. 
They'll have the chance to get to know them naturally, either at one of the many activities or social events arranged by the community or crossing paths in the dining room or other common areas.
Assisted Living at Seaside Hallandale Beach
If your family is considering assisted living as the place to best support your parent, we invite you to visit Seaside Hallandale Beach and discover all the benefits that having a little help can provide.
We understand this can be a challenging decision, but we are here to answer all your questions and help your loved one achieve an independent life well-lived.
Here are a few of the amenities you'll find available in our pet friendly community:
A monthly social calendar of activities

Beautiful common spaces to socialize

Weekly housekeeping

A spacious courtyard

An outdoor pool with covered patio

Personalized fitness and wellness programs

Scheduled transportation

Easy and safe access to the beach
If you have any questions about assisted living or Seaside Hallandale Beach Senior Living, please contact us at 954-607-1000 or download our brochure.

Click here to download the brochure: https://seaside.ac-page.com/dab-seaside-lp