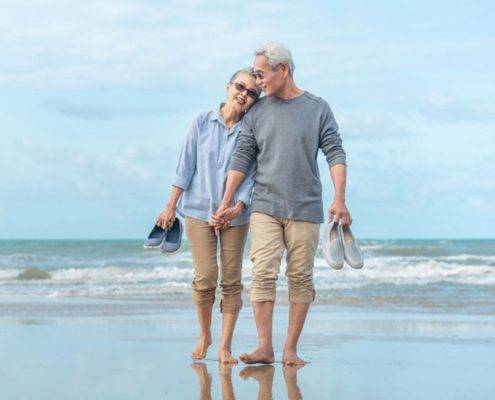 Improving the quality of life for its residents is one of the most influential advantages of assisted living. But in the midst of COVID-19, other benefits are becoming clear.
As communities implemented enhanced safety and support features, many of these will remain in place even after the virus is gone. As families ask whether the new assisted living is the right answer for them or a loved one – now or in the future – the answer is an unquestionable yes.
Comparing the risk of where you live
Although much about the impact of COVID-19 and senior living has been in the news, it's important to realize the effect wasn't the same for all communities. However, families may now automatically assume that it's safer for a loved one to stay at home.
As the pandemic has been the primary focus for all of us this past year, it may be helpful to consider what life might be like at home compared to an assisted living community.
Even for families who are diligent in taking precautions, the following comparisons help illustrate the advantages of senior living, as it may be easier for them to implement safety features and emotional support in these ways:
1. Controlling the exposure
Assisted living has better control over who has access to their community. In your home, it's likely that people are returning after going out into the world, whether to school, work or running errands. And in assisted living, there is no need for a resident to leave during a high period of risk. Everything needed is provided.
2. Requiring safety procedures
Most assisted living communities have implemented strict procedures for those who come into their community during the pandemic. This might include restricted access, hand washing or sanitizing upon arrival, as well as wearing protective masks or other coverings. Personal homes may not be able to follow these stringent steps.
3. Isolation that protects everyone
In an assisted living community, if a resident does become ill, it can be easier to isolate from others while still providing quality care, food and medication when needed. If an older adult becomes ill and lives alone, there's a risk of exposure for others to come into the house. If they live in your home, they may not have their own bedroom or area of the house to quarantine safely.
4. There's always a caregiver available
If you're the primary caregiver of your family member but become ill, who will step in? You'll need to arrange for help because the alternative of leaving your loved one alone likely isn't an option. In a community, even if someone does come down with the illness, there is always another team member to provide the needed care.
5. Minimizing the price of isolation
Although quarantining is needed once someone has contracted the illness, those who live alone may find themselves emotionally isolated as well. Older adults who live in an assisted living community are safely quarantined but not cut off from human contact. Your loved one won't need to fear being left alone.
6. First in line for vaccinations
Along with healthcare workers, those older adults who make their home in an assisted living community were moved to the front of the line for the COVID-19 vaccinations. This can not only provide physical health advantages but peace of mind as well.
When considering the new assisted living community
If you or your loved one needs more care or assistance or if community living is a better solution, you'll want to discuss all the safety and emotional support features available. Although additional steps may have been taken during the pandemic, many will continue to be a part of the community's regular routine in providing the best care for their residents.
The following are examples of what you may find to protect and enhance safety:
1. Depending on infection rates in a specific community or in the city or region where it is located, access to outside visitors may be denied or restricted.
2. If visitors are allowed, ask about the process for determining if they have been exposed to the virus or other illnesses.
3. Depending on infection rates, communities may limit access to common areas or postpone group activities.
4. Protective masks or keeping socially distanced may be required when the common areas or rooms are in use.
5. Extra care and increased frequency may be taken in cleaning all rooms and areas of the community.
6. Careful screening of residents and staff for any symptoms or exposure to the virus or other illnesses may be provided.
Remember the benefits of assisted living are still there
Don't forget the other advantages which extend beyond COVID and senior living. These continue to be available to help your loved ones achieve their most fulfilled and meaningful life. Such as:
1. Personal assistance when needed with the daily activities of living.
2. Opportunities to join others and build strong social relationships.
3. Healthy and structured activities to help residents keep physically fit.
4. Brain activities and exercises to help residents keep cognitively in shape.
5. Nutritious and delicious meals and snacks available.
6. Private residences but with the enjoyment of a maintenance-free lifestyle.
7. Scheduled transportation to appointments, shopping and entertainment.
Seaside Assisted Living Hallandale Beach
At Seaside, we understand the concern that COVID-19 and senior living has brought to families. Our priority is to not only keep our residents safe, but also to ensure that their overall physical and emotional health is addressed.
Our commitment to safer socialization acknowledges the importance of wellness and prevention along with social engagement, human connection and a sense of belonging.
We also provide strict infection-control procedures in all settings to keep seniors and staff safe and healthy.
With our on-site wellness services, including the utilization of Telehealth and Telemedicine, we will continue to update procedures to implement the latest recommendations. We are committed to your ultimate wellbeing.
If you have any questions about our communities, COVID-19 and senior living or how Seaside assisted living can care for you or your loved one, please contact one of our advisors at 954-607-1000.

Click here to download the brochure: https://seaside.ac-page.com/dab-seaside-lp