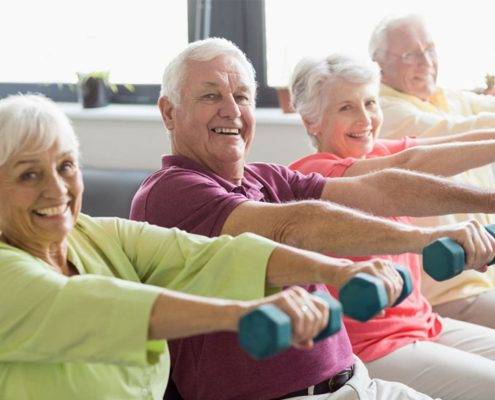 If you're like many other older adults, you likely have set a goal to live and age well. But what you may also be discovering are the many elements that can contribute to this goal. Here are just a few:
Eating a healthy diet

Getting the right amount of sleep

Staying active and socially connected

Living an independent life

Making new friends and nurturing old ones

Having and feeding your passion
But there is one feature that can easily influence the quality of life that we may not always embrace:
Exercise.
The importance of exercising for mobility, strength and to avoid falls
There are many advantages of exercise and the positive impact on our health is clear. According to the American Academy of Family Physicians, the benefits of exercise when you're older include:
Improved strength, helping you remain independent

Improved balance, which can help avoid falls

Creates more energy

Prevents or delays heart disease, diabetes and osteoporosis

May improve your mood and help fight depression

May improve your cognitive function
What you should know before creating your exercise routine
There are a few general recommendations to follow if you're just getting started or are ready to commit to a routine:
Seniors age 65+ should strive for at least 2 ½ hours of moderate aerobic exercise every week or 30 minutes on most days. Think brisk walking.

Or get 1 ¼ hours of vigorous exercise each week, such as jogging.

Include strength training at least two days a week.

Work on your balance and flexibility every day.
Check with your doctor beforehand if you haven't been active and are beginning a regular exercise routine. You'll also want to start slowly to lessen the risk of injury and to prevent soreness.
Talk to your doctor if you have any of the following symptoms while exercising:
Chest pain or pressure

Trouble breathing or excessive shortness of breath

Light-headedness or dizziness

Difficulty with balance

Nausea
Exercises to support aging well and avoiding falls
There are four types of exercise and for your best health, each should be a part of your fitness routine. The following is a breakdown of these types, their benefits and examples of exercises you can do:
Exercises for endurance:

this type of workout will help increase your breathing and heart rate, improve your heart, lungs and circulatory health, as well as build energy. Try these:
Walking

Jogging

Dancing

Swimming

Biking

Tennis

Basketball

Climbing stairs or hills

Raking or mowing
Exercises for strength:

these movements will help make your muscles stronger:
Lifting weights

Using a resistance band

Doing body-weight exercises such as push-ups or sit-ups
Exercises for balance:

try these exercises to improve your balance and decrease your risk of falling:
Standing on one foot

Walking heel-to-toe

Tai chi or yoga
Exercises for flexibility:

help stretch your muscles, become more limber and make it easier to move with these exercises:
Stretching movements

Yoga
Source: American Academy of Family Physicians
Remember, you can exercise and be active even if you're not at the fitness center. All movements count toward aging well. Try to integrate a few of these activities into your daily life:
Take the stairs instead of the elevator

Park farther away from your destination and then walk

Walk or bike instead of driving, whenever you can

Walk your dog

Work in the yard

Do light exercises while watching television
How a senior living community can help you age well and avoid falls
Moving to senior living can provide many benefits – including support for meeting your fitness goals. These communities are designed specifically to encourage residents to remain active, eat a healthy diet, enjoy companionship and socially interact.
For many seniors living at home, the ability to exercise may be more challenging. You may not have equipment or access to classes or instruction. It can also be harder to motivate yourself to exercise alone. If transportation has become an obstacle, it can also stand in your way to get to a gym or participate in activities.
Senior living communities make it easy to be active. Not only do they often provide a fitness center or classes, they also include other fun activities that will help you stay in shape. And – when you join in with the other residents, not only are you benefiting from the exercise but the social interaction as well.
Assisted Living at Seaside Hallandale Beach
We understand the challenges when discussing assisted living with your parents and hope these suggestions are helpful. We're here to answer any questions and we invite your family to see how a senior living community can encourage a higher quality of life.
We hope you will visit Seaside Hallandale Beach, where our community is designed to provide activities and social opportunities to help our residents live a fulfilling and engaged life.
We support our residents in aging well and believe your parents will enjoy the services and amenities available in our pet-friendly community:
A monthly social calendar of activities

Beautiful common spaces to socialize

Weekly housekeeping

A spacious courtyard

An outdoor pool with a covered patio

Personalized fitness and wellness programs

Scheduled transportation

Easy and safe access to the beach
If you have any questions about Seaside Hallandale Beach Senior Living, please contact us at 954-607-1000 or download our brochure.

Click here to download the brochure: https://seaside.ac-page.com/dab-seaside-lp