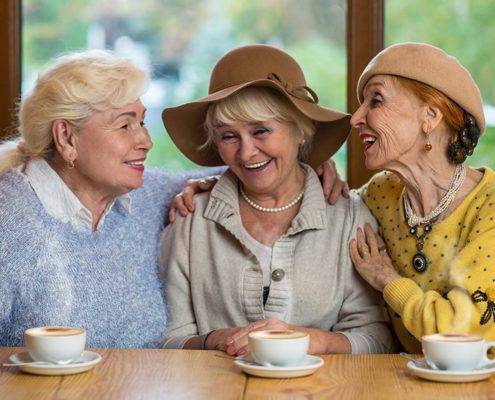 Do you spend time with your friends and family? Are you active socially? Do you have strong relationships who you can share your life experiences with?
If so, you're likely enjoying the many physical and emotional benefits that come from remaining engaged as you grow older.
The advantages of staying socially active
Several benefits can be realized for those with a healthy social life, such as a lower risk of depression and increased longevity, according to Harvard Medical School. But a 2019 study found that older adults who interacted with those outside of their usual social circle enjoyed even more advantages, including:
Higher levels of physical activity

Greater positive moods

Fewer negative feelings
One reason? It's believed that people's level of activity may be more sedentary when spending time with family or close friends. But interacting with others generally means leaving the house and requires behaviors that tend to be more active and stimulating.
Other benefits found from those who are socially active include a decreased risk of developing dementia and other conditions associated with isolation and loneliness, such as:
High blood pressure

Heart disease

Obesity

Depression

Cognitive decline

Alzhiemer's disease
Find ways to become socially active
There are almost endless possibilities to enjoy the company of others. But if you're having a hard time thinking of which ones may work best for you, consider these options: 
Start with family and old friends
Make sure you're spending time with family members and old friends that you've made throughout the years. If you've lost touch, it's well worth the effort to take steps to reconnect.
Volunteering
Finding ways to help others can be a great way to be socially active – and it feels good too. Look for organizations where you can contribute your time and talents.
Hobbies
Resurrect an old hobby or explore new ones that might be of interest. Try to find those that involve others so that you can share your passions.
Travel
A great way to meet others and form new relationships is to travel to new lands and participate in fun adventures. You might want to consider a travel club where you can join others while exploring.
Sign up for activities
Meeting others while participating in shared activities is a natural way to make friends. And you'll enjoy the activity. You can double the benefits when you appreciate the advantages of social interaction.
Learn something new
This is a perfect time to discover the unknown or further your knowledge in something of interest. Start with your local college or community center and investigate the different classes available, or consider teaching and share from your own rich experiences.
Make new friends
Look for opportunities where you can meet new people and form friendships. Choose areas that you're interested in. You'd be surprised at how much fun it can be to discover everything you have in common.
Reach out digitally
One great benefit of living in today's world is the option of meeting people virtually. This provides a great opportunity for those who may live in more isolated areas or aren't able to leave their home as easily.
Is there something getting in your way?
It's always a good idea to look first at what obstacles may be standing in the way of remaining socially active. A few possibilities might include:
Living in a rural area or where there may be fewer opportunities to socialize.

Not living near family.

Friends have moved away.

Health issues that may make it more difficult to leave your home.
Once you've identified what the problem may be, try to search for solutions or alternatives.
How a senior living community can help
One of the best advantages of a senior living community is how easy it is to make new friends and spend time with others. There are several activities offered each month so there will be something of interest for everyone as well as planned social events.
When you include all the opportunities there are to socialize – exercising at the fitness center, playing games, sharing time in the art studio, dining with your neighbors – or even as your paths cross in the common areas, friendships are formed before you know it.
You'll discover how much you have in common with so many of your neighbors. And with everything offered on-site, social interaction couldn't be easier. You may want to take a look at any of the obstacles that you identified above and then see how a move to a senior living community could help resolve them.
Assisted Living at Seaside Hallandale Beach
We understand the detrimental health consequences that loneliness and isolation can cause and the advantages that staying socially active can bring. We hope these suggestions can help – and we invite you to see how a senior living community can encourage you to remain engaged. 
If you or your family is considering senior living, we hope you will visit Seaside Hallandale Beach. Our community is designed to provide activities and social opportunities to help our residents live a fulfilling life.
We are here to support you in aging well and believe you'll enjoy the services and amenities you'll find available in our pet-friendly community:
A monthly social calendar of activities

Beautiful common spaces to socialize

Weekly housekeeping

A spacious courtyard

An outdoor pool with a covered patio

Personalized fitness and wellness programs

Scheduled transportation

Easy and safe access to the beach
If you have any questions about Seaside Hallandale Beach Senior Living, please contact us at 954-607-1000 or download our brochure.

Click here to download the brochure: https://seaside.ac-page.com/dab-seaside-lp